I'm so glad that I am a parent in a time where children's music ROCKS!
Robert Schneider of The Apples in Stereo fame brings groovin' whimsy in 1960's pop style with his brand new album Robbert Bobbert & The Bubble Machine!
Try to imagine a cross between the Beach Boys and cartoon theme songs (or just go here or here and have a listen), and you are coming close to the boogie-inducing sound of Robbert Bobbert & The Bubble Machine.
The songs on Robbert Bobbert & The Bubble Machine uncannily appeal to my family on a personal level; it is almost like Robbert Bobbert was spying on us as he wrote the album. He even highlights all of our favorite animals, from dogs to elephants.
The track We R Superheroes is an instant hit for my boys; Jojo has probably been wanting his own theme song for most of his four years (he drops hints by often appearing shrouded in costume…and mystery).
I Am A Clock is another winner not only for it's sing-ability, but because we have long played a game in our home of picking up one of the boys and making them go *tick-tock* like a human pendulum (don't judge, they love it! Really.)
If you were ever curious to know what a mouse rapping might sound like, you should check out Fee Fi Fo, Fee Fi Fum. The intro is brought to you by the same Casio keyboard sample that my younger brother and I used to use to make up "hilarious" songs as children.
Go, listen to the samples! Robbert Bobbert & The Bubble Machine will make car travel fun and playroom dance time FUNKY!
Would you like to win a kids PARTY PACK, including a copy of Robbert Bobbert & The Bubble Machine, Funrise Toys' Gazillion Bubble Machine (4,000 bubbles per minute!) and TEN Robbert Bobbert coloring pages to entertain party guests!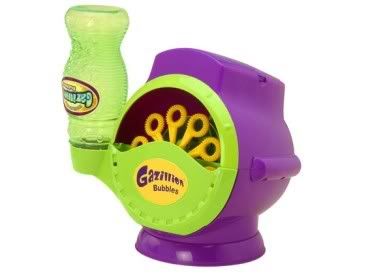 To enter for your chance to win, leave a comment on this post telling me which sample song was your favorite, and what kind of PARTY you would have with your PARTY PACK!
One winner will be selected at random.
This contest is open to US residents.
This giveaway will close at 11:59 CST, March 7, 2009.
*Congrats to Alba!*