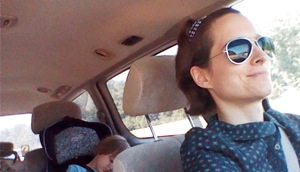 Deeds and I went on a road trip to Atlanta, GA! (Do I look like Johnny Knoxville in this photo? Gross!)
Let me say firstly that this is NOT the Atlanta I remember from my childhood. I grew up in Birmingham, Alabama, and the only reason we went to Atlanta back then was to go to Six Flags and maybe check out Underground Atlanta, which was pretty spooky at the time.
Come to think of it, Six Flags was also spooky, rife with people hanging out of wet spandex.
But Deeds and I are falling in love with Atlanta! Our first initiation was a lovely city tour by Presenting Atlanta and Omni Hotel. There was slight confusion as I was expecting a tour with Georgia Van, but it turned out the Van was inside of this car.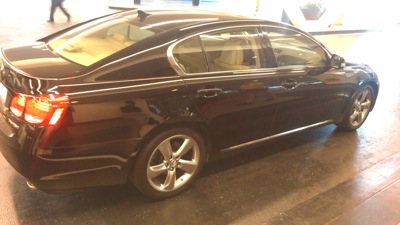 Knowing my dietary needs, they planned an exciting lunch for us at R. Thomas Deluxe Grill, where we feasted on special life-giving smoothies and juices, pasta with organic cheese (in D's case), and delicious gluten and dairy free salads (in my case).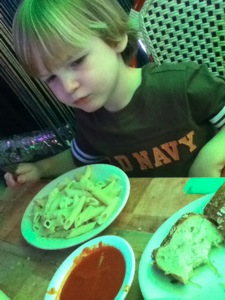 Seaweed salad! This was my appetizer. Why no picture of the main? I had devoured half it it before I remembered. Sorry, guys.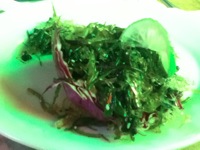 Oh and they had tons of tropical birds in cages. I don't know where my photos of those got to. But the decor was eclectic. In a fun way.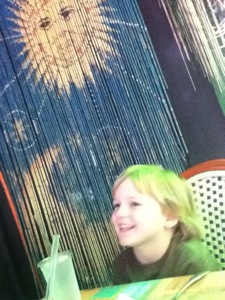 Deeds had a great time; good food and good company are something even a preschooler can appreciate.
Next stop? The Inside CNN Tour! I was surprised that the CNN center had a giant mall-sized food court. Oh, and a huge rainbow unicorn.
The tour was about 45 minutes long and included an explanation of how a news set works (including the famous Green Screen that weathermen use),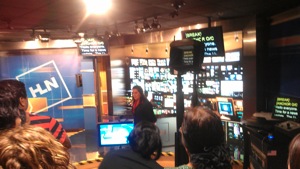 and viewing various parts of CNN in action, behind the scenes.
This was some news-gathering people.
I started to see lots of photos and portraits of Anderson Cooper, which made me disappointed he didn't appear from the shadows and invite me to sit in his lap or something.
But, a kindly member of my tour group saw me trying to photograph myself next to his likeness and offered to try her hand, resulting in this blurry treasure: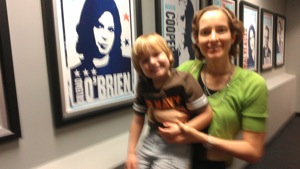 After the tour, all we had to do to get back to our Omni Hotel room was walk through a lobby and go up an elevator, cha-ching! No traffic and no outside-ness. Omni Hotel Atlanta is probably the winner for Most Central Location of Tourist Stuff.
Back in the room we sampled delicious delicacies like Poached Pear, The Best Hummus I Have Ever Had, Seriously, and White Bean Dip.
I was trying to be the bigger person and let Deeds have as much as he wanted, but dang, he wanted all of it! Ease up, you fancy-eating preschooler, you!
After snack time we had to check out the pool. I mean, its what kids need. Deeds was quite daring in the pool. I might have to actually get in next time.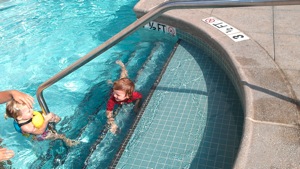 After a fun walk around the Luckie Marietta District, we went back to the room and I turned down the covers while Deeds took a bath.
Turndown service had already offered to do so (AND given Deeds a GIANT chocolate chip cookie and a bottle of milk!) but the bed and a bunch of stuff on it so I just did it myself later.
When he got out of the tub he said, "WHOA! HOW did you MAKE this ROOM?"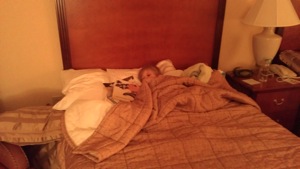 Yeah, we think we fancy.