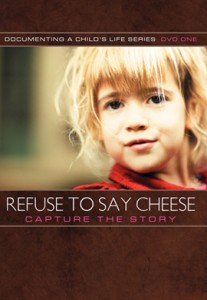 I have always wanted to be that talented mom with the amazing family photos, but I'm not always pleased with my results after a session.
I'm no stranger to the camera; I took my first photography class in high school and then decided to pursue photography as a minor at university.
But to be honest, when it came time to learn about "that technical stuff", my mind would just glaze over.
I knew words like f-stop, aperture, and shutter speed, but I didn't know how to make them *work* to get the effects that I wanted.
I am really thrilled with these great instructional DVD's by expert photographer Me Ra Koh!
Me Ra Koh is the photo-savvy girlfriend I have never had. I am already stalking her on twitter, and she also blogs.
In Refuse to Say Cheese, Me Ra gives practical advice about how to capture your child's STORY instead of just photographing a forced smile.
Refuse to Say Cheese was produced with parents in mind; these are not scary technical tips, but practical exercises designed to improve your photo composition.
Me Ra has given me a better "photographic eye".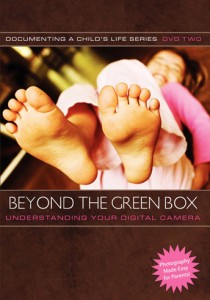 The first half of Refuse To Say Cheese is about how to tell a story in pictures. This encouraged me to pay attention to details; this post was Me Ra inspired. Just to compare, this is a post from before I watched Refuse To Say Cheese.
Both posts are short and contain only a few photos, but I feel that the composition and documentary techniques that my friend Me Ra showed me in her non-intimidating way make the All Before 8 AM post much more intimate.
To tell you the truth, I felt really close to Deeds that day as I worked to see the world through his perspective. So not only did I get some pictures that I am very pleased with, I also got a sweet memory with Deeds!
In Beyond The Green Box, Me Rah patiently unveils the mysteries of  aperture, shutter speed, and ISO.
The "green box" is the automatic setting on your digital camera. Oh, how long have I lived inside the green box due to fear of ruining a photo? It is time for me to break free from the box!
Beyond The Green Box does not overwhelm with technical information; rather, Me Rah explains how to use each setting to tell the story you want to convey through your photographs.
Also included in the DVD are "assignments"; exercises to help you understand how aperture, shutter speed, and ISO affect your pictures.
I love that Beyond The Green Box is not a text book approach. It is more of a "coffee talk with the girls" kind of feel like these techniques are accessible even to ME!
Imagine what it would be like if our children someday looked back through family albums and learned something about who they were, what they faced, what they overcame- all through photographs. Internationally acclaimed professional photographer and writer Me Ra Koh empowers moms to take better pictures of their children with her DVD series, Refuse to Say Cheese and Beyond the Green Box. Created specifically for moms, the DVD series teaches them how to use their camera and document their children's lives. Instead of looking back at their childhood through photos of posed smiles, Me Ra teaches the importance and significance of telling a child's story through photographs- from memorable milestones to sad losses and everything in between.
Come to think of it, one of my favorite childhood photos of my younger brother is from him throwing a temper tantrum at age two. You can really see the rage on his red, screaming face!
I need to do a better job at capturing my boys emotions, even if they aren't positive ones.
If you are a busy parent but want to take your photography to the next level, I recommend that you look at what Me Ra has to offer. Each DVD is $29.99, or you can buy both together for $49.99.
Or, start small and check out Me Rah's blog for some Tips for Moms!
I'm pretty inspired! Where will I go next with my photography?
I want to share my adventures, telling the story, in all of the amazing places we go: Thailand, Laos, Singapore, Indonesia (including surfing in Bali!), China and beyond!