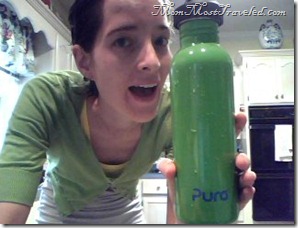 I am really excited about the Pura Stainless Steel bottles; they are 100% BPA-free, nor do they require questionable chemical linings like aluminum bottles.
I got a Pura 0.8L Stainless Steel Water Bottle with Stainless Loop Cap and I really love it.
I always feel like the aluminum bottles make the water have a funky taste and I don't enjoy drinking out of them. Bleh! But my Pura 0.8L Stainless Steel Water Bottle didn't change the taste of the water at all. I love the wide-mouth, AND these are dishwasher safe. Woohoo!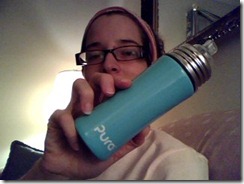 The Pura Stainless Steel  adult bottles range in size from 0.6 liters to 2 liters.
The new Kiki line has baby bottles that can grow with baby and turns into a sippy cup.
We got a Pura Stainless Kiki Sippy Bottle Stainless Steel, 11 Ounce, Aqua Blue with a 100% silicone sippy spout.
I love that there are internal volume markings, which would be handy to use as a reference if you were mixing up a drink or if you want to keep tabs on the amount of liquid your child is consuming in a day.
I give these bottles an A+ for durability, sexy look, no funky water taste, eco-friendliness, and safety!
Learn more at www.purastainless.com.