I find myself wasting time networking on Twitter on a daily basis.
It is fun to engage with people instantly; I can send out an appeal for someone to please Stumble! one of my articles, ask for advice, and celebrate victories and defeats in less than 140 characters.
I definitely want to use twitter as a tool, rather than allowing myself to be used by twitter (I would feel so ashamed…).
I signed up for Qwitter, a tool that sends on an email each time someone UNfollows you on twitter.
The email lets you know what the last tweet was that sent them over the edge and caused you to be unfollowed.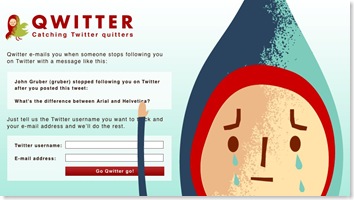 Now, I am a woman, and I'm also rather introspective (hence the blog). These factors combine to make my sense of self-worth very fragile.
When I get a Qwitter notice or an unsubscribe notification from my RSS feed, I could really use some words of affirmation to help balance the blow to my self esteem.
I allowed Brenden Wood to play the roll of my shrink as I worked through the emotions triggered by Qwitter unfollows on his podcast.
Luckily I haven't tweeted anything unfollow worthy in over a week now.
But, the next time I get a notice in my inbox, I will be in deep need of supportive comments on my blog.
I will try to remember the good times, back when I held in esteem as a deep thinker, and given blog awards.