Preschoolers have an early bed time, which is good because you need that "mommy time" at the end of the day to unwind.
The problem is that preschoolers having seemingly boundless energy during the daylight hours. How do you channel The Force and keep them from turning your house upside down?
Hasbro has the right idea with their Elefun and Friends collection of games, designed for active play and lots of laughs!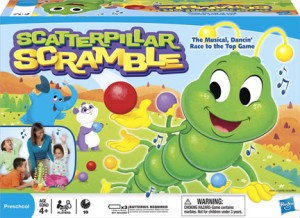 Games in the Elefun and Friends series include Hungry Hungry Hippos, Gator Golf, and two new games that Hasbro sent us to try out: Giraffalaff Limbo and Hasbro Scatterpillar Scramble!
Giraffalaff Limbo is a kid-friendly limbo game in which players spin a spinner to find out which of the 6 ways (classic limbo, crabwalk, crawl, giraffe walk, forward, and backward) you have to limbo.
If you bump into Giraffalaff, he starts laughing! The player who goes the lowest is the winner!
Giraffalaff Limbo is contained enough to be played indoors, but it can really be a workout!
Scatterpillar Scramble focuses on fine motor skills, as players hurry to place all of their 8 marbles in Scatterpillar's hands as he wiggles about! It is actually quite challenging!
Scatterpillar Scramble and Giraffalaff Limbo are great games to pull out when you are trying to resist the urge to turn on the television.
Jojo loves playing online games. He just turned 5 so I'm always on the look out for age-appropriate online fun. Elefun & Friends has online action at www.elefunandfriends.com.
Find the special code inside each Elefun & Friends game box, enter the code, and kids can access The Tangled Tale, an Elefun & Friends animated short.
The Elefun & Friends online experience also lets kids play games and sing along to songs.
If you want to buy one of these games, be sure to download a printable coupon for $4 off any Elefun & Friends game! This valuable coupon offer is valid until December 31, but it's only available for download through October 31, so print yours off today!
Through Hasbro and My Blog Spark, I got these two great games to review, and I also have a set of two games to giveaway to one reader!
1). To enter for your chance to win Giraffalaf Limbo AND Scatterpillar Scramble, leave me a comment sharing some ways you and your kids enjoy silly, active play!

2.) Email subscribers get an extra entry for as long as their subscription is active.
Already a subscriber? Leave me a separate comment on this post to let me know you're interested in this giveaway.
Want to subscribe? Just click here:  Subscribe to Mom Most Traveled by Email (Only verified subscriptions are entered for all the giveaways.)
3) You can tweet about this giveaway once each day for extra entry. Be sure to include a link to this post, and @MomMostTraveled. Or, just copy and paste this text below for your tweet:
Win 2 great games from Hasbro @MomMostTraveled http://bit.ly/1CClme
Leave a comment here for each tweet. Be sure to include your twitter ID.
4.) One extra entry for every social bookmarking site you submit this post to (examples: Digg, StumbleUpon, posting on Facebook). Leave a comment for each with your user name.
5.) Blog about this giveaway, including a link to this post.
This giveaway is open to US residents only. This contest will close on October 31, 11:59pm CST