By the time you read this, I will be in the middle of an epic journey.
Jojo, Deeds, and myself are flying from Laos to Thailand to Japan to Atlanta to smaller city in Southeast, USA.
32 hours of travel. Four countries. Eleven hours of layovers. Two kids. One mom.
My mission? To keep two active boys corralled and prevent them from harassing other passengers.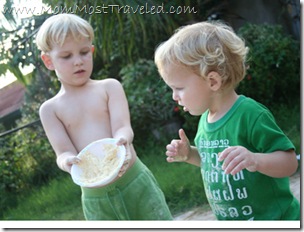 (playing with old flour in the front yard)
Jojo got his roller skates.
My strategy? Well, our first flight leaves at 9:40pm.
The hours before departure will be focused on physical activity for the boys. Swimming. Washing a car. Anything but sitting and watching TV.
I'm having to pack light for our carry on items. This is easier said than done!
But since I am the sole adult, I have to make sure I can physically carry EVERYTHING that we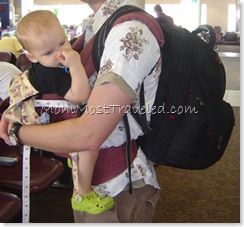 pack to carry on.
I realized that I am not going to be able to push a stroller and manage our luggage. So? Deeds is going to ride in an Ergo baby carrier on my back. We have had this carrier for years. It might have been the most expensive piece of baby equipment ever bought.
This picture is from a trip about a year ago. My hubs is wearing Deeds on his front and a backpack on the pack. I'm going to wear Deeds on my back and a backpack on my stomach. Deeds is a big toddler now.
He is heavy, and besides that I don't want him grabbing at my face as I rush through the airports. I carried Jojo like that when he was 2. Deeds is 22 months.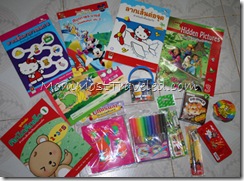 This is a stash of new items that I am bringing as carry on to surprise Jojo. I have wrapped several of these things in wrapping paper to prolong the magic. There are several activity books (dot-to-dot, mazes, hidden picture), a blank sketch pad, some cool markers that clip together, a set of plastic stencils, play dough, one of those mini boxes of cereal, some new pencils and crayon thingy encased in plastic.
I am packing TONS of snacks, as well as 2 lollipops for each boy for each flight (one for take off and one for landing), two empty sippy cups (no liquids allowed, but it will be nice to have the cups for when they are served something). I have some dried fruit and granola bars, and things like crackers and cookies. One neat thing is some kind of cookie sticks with a little compartment of chocolate icing to dip them into.
3 sets of extra clothes for each boy. Hopefully an extra shirt for myself, just in case they get me messy.
18 disposable diapers. These are pull-up style so that if we aren't dealing with poop, Deeds can just step in for an easy change in the itty bitty airplane bathroom. 18 is probably overkill, but I do NOT want to run out of these!
a brand new pack of 70 baby wipes
travel pack of tissues
pipe cleaners and stickers, just for fun
a satin pillow case to put on the airplane pillow. Deeds loves satin.
Deeds's blankie, whose name is "Silky".
at least 3 pacifiers
Bummis Waterproof Bag, in case I need a place to put dirty or wet clothing
my laptop (I won't be using it, I just can't put it in checked luggage because it will get messed up)
a small digital camera (not my big good one)
paracetamol (for myself, aye!)
3 Emotes action figures. I let Jojo choose
a small basket and 2 matchbox cars Deeds likes to play with
Deeds surprise gifts were hard to plan. He doesn't like many toys, and he can't read or do workbooks:
Sponges and a compact mirror. Yes, maybe I'm weird. I wrapped these up in wrapping paper for him. I think he might like pretending to clean things on the airplane.
Plus the mirror has a button that makes it pop open, and it is shiny metal. He loves things that look like they might be forbidden to babies.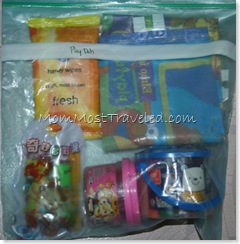 This is something I'm kind of proud of. I collected 2 table toppers, 2 mini buckets of play dough, some plastic cookie cutters, and a pack of 12 baby wipes all one one plastic freezer bag (a very old freezer bag, by the way, with some holes in it. I'm totally "reusing" this, so stop judging me okay?)
When I decide it is time for the play dough, we are all set, down to the clean up! Woohoo!
What I'm bringing for me:
one book (not sure I will have ANY time to read it)
a notepad and pens for recording events as they unfold
hummus and granola bars
contact solution/ eye glasses for when I take out the contacts
toothbrush, toothpaste, other small toiletries (we will be in the Bangkok airport so long, I will probably take a shower).
With kids, you don't quite need as much in-flight entertainment as you used to.
One of my single friends was lamenting having to fly alone. Personally, I think that sounds awesome.
Other precautions: I requested all vegetarian meals for myself on the flights, and all kids meals for the kids. You have to do this at least 48 hours in advance, but it is definitely worth doing.
The kid meals are kid-friendly fare like fried rice, chicken nuggets, burgers, etc.
The vegetarian meals save me from meat but sadly also rob me of dairy products. It is a sacrifice I am willing to make to avoid strange Asian airline food combinations involving pork, or even less appetizing, greasy duck meat!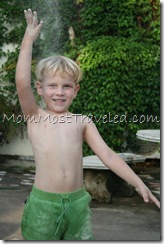 We will arrive home around 5pm on Monday evening, and I will be ready to party!
Sleep party!
I covet your prayers!