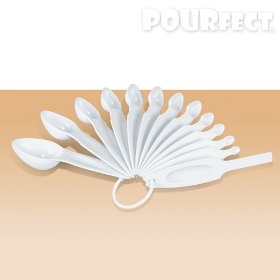 I love baking, but I do get anxious when odd measurements pop up. Have you ever tried to half a recipe and then all of the measurements are all off kilter? So you find yourself guessing about how much 1/2 of 1/8th a tsp is?
Thankfully, POURfect has thought of that. Not only do they allow for odd measures, they also make their cups, bowls, and spoons POURfect by adding a nice little spout.
The 12-piece measuring spoon set also includes a leveler, and all are attached with a snap-off ring.
The spoons can measure a variety of amounts, all the way from the tiny amount of 1/64 tsp (drop), 1/32 tsp (smidgeon), 1/16 tsp (pinch), 1/8 tsp (dash), ¼ tsp, 1/3 tsp, ½ tsp, ¾ tsp, 1 tsp, 1 ½ tsp, 1 TBS, and 2 TBS.
The measuring spoons are ergonomically designed with a comfort grip and thumb depression.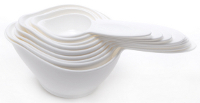 POURfect's 9-piece measuring cups for dry ingredients also come in a wide range of common and specialty sizes including: 1/8 cup, ¼ cup, 1/3 cup, ½ cup, 2/3 cup, ¾ cup, 1 cup, 1 ½ cup, and 2 cups.
They are easy to store because they nest within each other, and have flat bottoms too.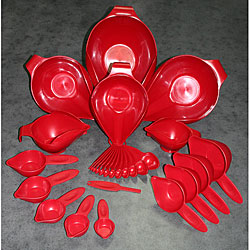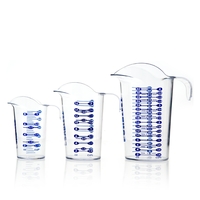 The POURfect beakers feature a flat edge dripless spout and gull wings with channel to eliminate the risk of spilling wet ingredients while measuring and pouring.
I really like the graduated markings on the side; it really takes away the stress of trying to estimate! The beakers are available in 1-cup, 2-cup and 4-cup sizes.
POURfect bowls, measuring cups, and measuring spoons are available in 6 different colors that coordinate with Kitchen Aid appliances.
Wouldn't these be a thoughtful gift for the person who hosts your holiday meals this year?
Thanks, POURfect, for allowing me to test these fabulous, useful products!