My firstborn was what they call "high needs". If you aren't savvy with the parenting lingo, that is just a polite way to say that he was crying whenever he wasn't being fed or held.
I learned the five soothing techniques very early in the parenting game; now I make it my mission that every new parent be armed with the knowledge of swaddling!
This is a picture of three week old baby Jon Jon. In the picture on the left, Jon Jon is in the process of being swaddled. You might can tell that he is unhappy.
The picture on the right is Jon Jon less than a minute later, swaddled to cozy contentment in his Ultimate Receiving Blanket from SwaddleDesigns.
What makes the The Ultimate Receiving Blanket "the ultimate"?
Designed by an RN and mother, The Ultimate Receiving Blanket is much larger than a typical baby blanket. This one measures 42″ by 42″!
The Ultimate Receiving Blanket has an award-winning design, and is available in a variety of stylish colors and prints. Jon Jon has Solid Pastel Lime with Mod Circles. I really like it!
Since The Ultimate Receiving Blanket is so large, it can be used as a nursing cover, for tummy time, or for swaddling!
Instructions on how to swaddle your baby are sewn right onto The Ultimate Receiving Blanket, easy to read on the exclusive 1-2-3 Swaddle Tag!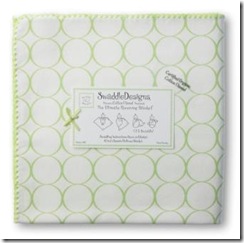 The Ultimate Receiving Blanket is a WONDERFUL baby shower gift; it will definitely be a much used accessory during baby's first year and beyond.
Besides being a great way to sooth your newborn, swaddling has other benefits, too.
SwaddleDesigns has some adorable new organic prints soon to be released!
Keep your eye out for this one, my personal favorite, Kiwi Mod Circles on Ivory!
SwaddleDesigns products are sewn in the USA, and their employees are paid a fair wage (not minimum wage!).
I admire SwaddleDesigns for their commitment to excellence in quality baby products.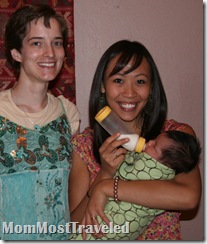 SwaddleDesigns is a proud sponsor of Mom Most Traveled's Celebration of Adoption.
Not only did SwaddleDesigns donate an Ultimate Receiving Blanket to an adoptive family; they are also giving Mom Most Traveled readers the opportunity to win one!
To enter for your chance to win, visit SwaddleDesigns and leave a comment on this post telling me something you love from their shop!
It can be a blanket print or design, or another product!
One winner will be chosen at random.
This giveaway is open to residents of the continental U.S.
This giveaway will close on January 16, 12 midnight CST.
*Congrats to Lisa Fosses!*