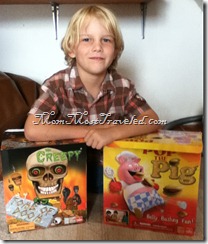 We got two games by Goliath Games with fun names. Wow, rhyming sentence!
Pop the Pig is a game in which you feed a pig plastic burgers. With each burger you push down on the top of his head a number of times, which makes his stomach inflate.
When the stomach reaches capacity, his belt pops open and his arms flip up. If you are the one who made him "pop", you lose. Haha! YOU LOSE!
You have to pump the head pretty firmly, and the stomach does inflate noticeably. It's not like "WhoA is THiS room GettIng sMalleR??", but you can perceive it.
Both of my kids, ages 3 and 6, really like Pop the Pig
Here is Jojo's review:
For the adventure-loving child in your life, there is the mildly frightening Tomb of Doom!
Only one of the eight magical keys unlocks the treasure chest.
The rest of the "wrong" keys make Mr. Creepy rattle menacingly.
Roll the die and complete challenges to get the chance to open the chest!
We like Tomb of Doom because it is kind of Indiana Jones-ish!
Thanks, Goliath Games, for these fun samples!