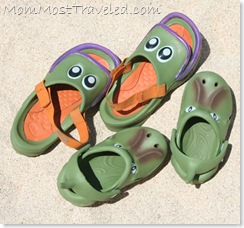 We have long been fans of the adorably fun children's shoe brand Polliwalks.
Last year, Deeds loved his Frog design in Lime before he outgrew them, and Jojo can still wear his Lime Gators, though they have seen lots of action. Deeds also likes to slip his feet into Jojo's beloved gator shoes when the opportunity presents itself!
Now, Polliwalks has even MORE styles and colors to choose from, and many fantastic features.
Jojo really loves his new Fish Lips design; the lips change from white to purple when exposed to sun light!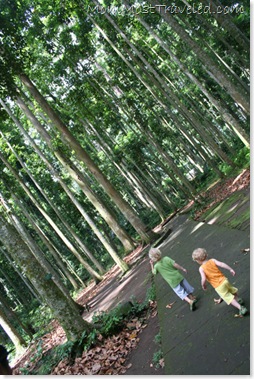 The color change feature was lots of fun at the beach, and it also reminded me that those UV rays were all over the place and we need to stay protected!
These shoes really are comfortable. Jojo told me a couple weeks ago, "I don't like my fancy shoes. I only like my FISH SHOES!"
He loved them even more when I showed him that the elastic strap on the back could be removed.
He wasn't kidding, either. Jojo wears those babies every day, and when he saw me on the Polliwalks website just now collecting facts for my review, he picked out a couple more styles that he would like to have!
I highly recommend Polliwalks for children with sensory issues or sensitivites to certain clothes.
Deeds was refusing many kinds of foot wear for a period of time, but he loves his Polliwalks.
Deeds has gotten LOTS of attention in his adorable T-Rex shoes,
but what amazes me the most is that, at the age of 20 months, he can actually put these on and take them off without any assistance!
I know Deeds is proud to be able to put his own shoes on and run out the door on Jojo's heels! He did put them on the opposite feet the first few times, but now he really has the hang of it!
In addition to being the cutest thing I will ever see on my boys' feet, Polliwalks are:
* vegan friendly
* manufactured with NO WASTE (all excess material is recycled)
* environmentally friendly (water-based adhesives, recycled paper and plastic used in the minimal packaging)
* waterproof
* easy on/easy off
* comfortable and soft
* FUN (animal designs and a "footprinter bottom" that leaves animal footprints when your little Polliwalker treads on sand or mud)
These are high quality shoes with great foot support. Both of my boys run all over the place wearing their Polliwalks! They are great on the beaches of Bali and the Sangeh Sacred Monkey Forest, a two day airplane ride, and the preschool playground!
Buy your Polliwalks online on Amazon
, or these other fine retailers!
Polliwalks is generously offering one pair of Polliwalks clogs to one Mom Most Traveled reader!
1.) To win a pair of Polliwalks in your choice of color, size, and style, leave a comment here with the exact color, size, and style of shoes you hope to win! (You may enter once a day – subsequent entries don't require you to answer the question).
Please don't just comment with "Enter me" or "Sounds great". That totally annoys me. Those entries are not eligible to win.
One winner will be chosen at random.
This giveaway is open to those with a US mailing address.
Contest closed! Congrats to comment number 304, a daily entry from Kristy!
This contest will close May 21, 2009, 11:59 CST.