"Thanks to Plum Organics for sponsoring my post about fun kid photos and the stories behind them. Enter Plum's "Babies for Yum Caption Contest" on Facebook and you could win a $100 gift card or Plum goodies."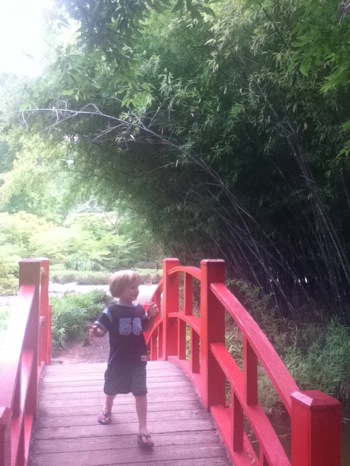 My youngest son, 3-year-old Deeds, was in my school class this year. Deeds had to share me with 16 other demanding 3-year-olds. Deeds was not always a model student. It was a stretching time for both of us.
Now that summer is here, I'm looking forward to being just plain "Mama" to Deeds, not "Ms. Candice".
This picture is from our date to the botanical gardens this week. After dropping Jojo off at Garden Camp, we spent a leisurely hour wandering the forest, enjoying the scenery in the Japanese garden, watching koi swim in the giant pond, and turtles lazily sunning themselves on rocks.
Deeds ate a box of raisins, told me where to sit, decided what we would look at, and how long we would look at it.
It was relaxing and nice; I loved the feeling of being able to enjoy time with my son and not having to worry about keeping a thousand plates spinning at once.
During dinner, Deeds told everyone how we walked on the brown bridge and a red bridge, we saw turtles in the sun, and that Mama went the wrong way and we had to go back (I took us down a path that led to a locked gate that said an alarm would sound if we touched it.)
I think the day made an impression on him, and it was like a vacation from nagging for me. I got lots of cute pictures of him, too!
We saw a $200 Fairy house: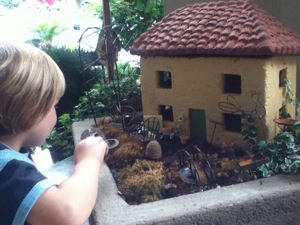 Walked on diamonds: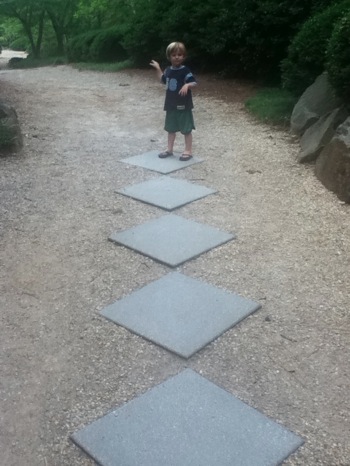 Enjoyed seeing a big bronze "bum bum":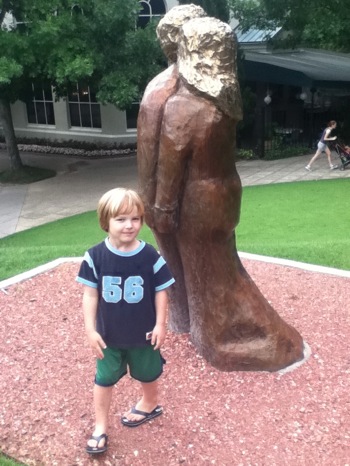 I hope that Deeds and I can have more dates this summer. I don't want his formative memories of me to be a stressed out, barking mom.
I want to be the mom who stops to take pictures of bronze bum bums, hangs out on the garden swing, and doesn't rush him to finish his raisin box because the mosquitos are out.
I'm thinking of taking him on a train trip to New Orleans. Am I crazy?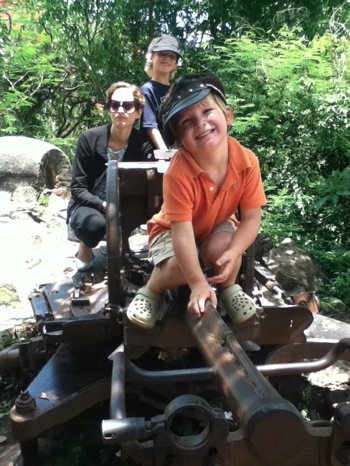 Maybe I am, actually.
Here's hoping I stay on the "cool" side of "Crazy Mom".
I was selected for this sponsorship by the Clever Girls Collective, which endorses Blog With Integrity, as I do.