I am participating in a contest to "BUILD A BETTER PIZZA" including a homemade crust comprised of AT LEAST 50% Hodgson Mill Whole Wheat Flour.
For my recipe, I started with:
I decided to make a whole wheat pizza crust using beer. I had made beer breads in the past and they are so quick and easy, I wanted to give it a shot.
This is my recipe:
2 cups Hodgson Mill organic white flour
2 cups Hodgson Mill whole wheat flour
2 teaspoons Hodgson Mill active dry yeast
1 teaspoon baking powder
1 1/2 teaspoons Himalayan salt
2 tablespoons olive oil
1 1/2 cups room-temperature beer (I used pumpkin ale)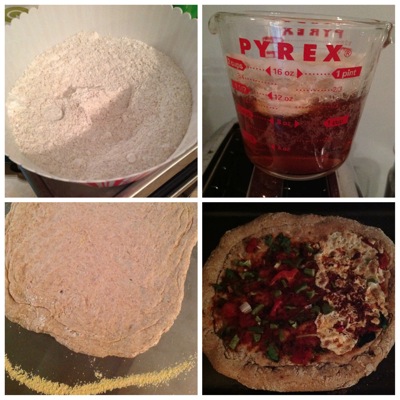 1
Mix and knead together all the ingredients into a smooth, soft dough. Allow it to rise for 30 minutes or up to 2 hours.
2
Preheat the oven to 400F
3
Divide the dough in half. Shape each half into a 10″ to 12″ round.
4
Sprinkle (baking pan, etc) with Hodgson Mill yellow corn meal. Place the formed dough on your baking surface.
5
Bake for 3 to 4 minutes. Remove from the oven, put on toppings and bake for an additional 14 to 18 minutes, until the bottom crust is crisp and the cheese is bubbly and browned.
I'm allergic to cheese so that is why half of the pizza is cheese-less.
We put down spinach, sauce on top (so the spinach wouldn't burn), real bacon crumbles, onions, green peppers, and red peppers. The cheesey half has buffalo mozzella. It was tres deliciouso!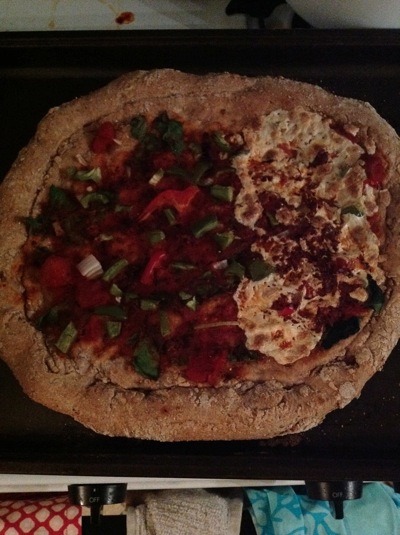 Mine only has cheese on one half. But the crust is delicious!
The crust is crunchy and hearty, with just the right amount of saltyness.
See Official Contest Rules here: http://www.hodgsonmill.com/pizzacontestrules  
Go vote for me!