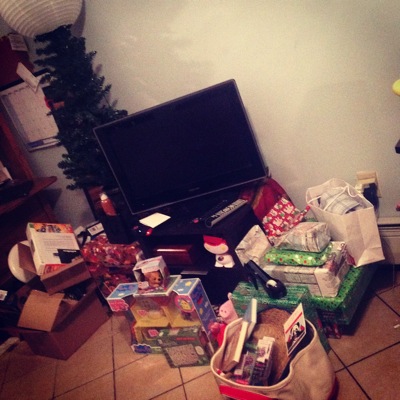 We have an unexpectedly awesome toy at our house that my 5 and 8 year old have been incorporating into A LOT of different play scenarios with everything from plastic green army men to Bilbo Baggins Legos.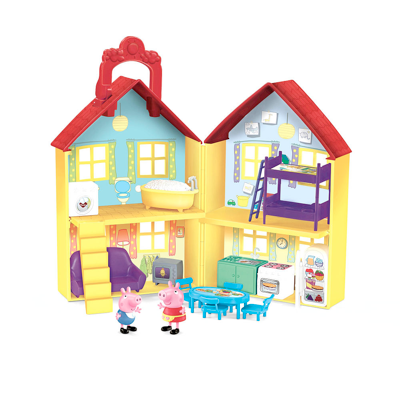 This Peppa Pig Peek 'n Surprise Playhouse is awesome… it has a bedroom, a living room, a kitchen and a bathroom and more than 18 play pieces, including Peppa and George figures.
A washing machine flips to reveal clean clothes, a fridge opens up to reveal food, a barbecue flips for different meals, and the bathtub flips to reveal bubbles.
All of the pieces can store inside (yay) and there is a handle so that your child can carry it around when closed.
Aww, look how cute the Hug 'n Oink Peppa Pig Talking Plush is! She is 12 inches tall, and wait until you hear her voice! When squeezed she says different phrases like "A lovely hug!" in a nice, calm, not-shrill voice. I give this toy two thumbs up from a parental perspective. It talks with minimal annoyance factor. Win!
To round out the Peppa collection, you might want to add a DVD. We have Peppa Pig – Muddy Puddles, which contains the following "peppasodes". (haha!)
1. Muddy Puddles
2. Mr Dinosaur is Lost
3. Polly Parrot
4. Best Friend
5. Hide and Seek
6. The Playgroup
7. Mummy Pig at Work
8. Camping
9. Gardening
10. Bicycles,
11. The New Car
12. Snow
I am a Peppa Pig fan because the shows are so calm and gentle but also entertaining! If you have a Peppa Pig fan (or if you think you want your kid to BE a Peppa Pig fan…) look for these toys at Toys R Us or online!
I was provided with the items mentioned in this blog post because of my relationship with Team Mom. This review is honest and I do think these toys are adorbs.