I love my new toys I got this week: a Paper Jamz Pro Series Microphone and a red Sing-A-Ma-Jig!
This Paper Jamz Pro Mic is too cool; it can modify your voice with  Perfect Pitch™ technology, and has different "modes" like Solo/Duet, Auto Harmony, Auto Vibrato, Chorus, and Auto.
Jojo really loves it; and I notice that he is actually LESS noisy when using the mic than if he was just left to his own constantly-singing devices.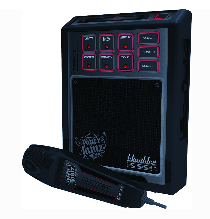 Wearing the amp in your cleavage is TOTALLY optional.
Sing-A-Ma-Jigs are weird looking dolls that sing a note when you squeeze their tummies!
Apparently, when you have multiple Sing-A-Ma-Jigs you can put them together and they sing something extra awesome, but I just have one so it could be a rumor.
I'm laughing in the video because Jojo loves these, and he loves the Paper Jamz mic, and these two toys can join forces to make amazing caucophony!