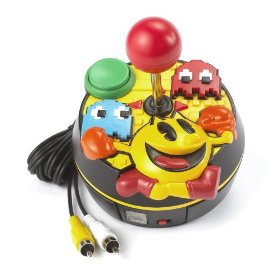 I'm not ashamed to admit it; I love the 1980's. Well, everything except the fashion.
The songs, TV shows, and toys that were popular back in the '80's bring me a wave of happy nostalgia.
Pac-Man is one of my favorite video games of all time. Maybe I'm simple; this is one game that is straight forward and easy to understand, unlike those new-fangled games that youngsters are playing these days *shakes feeble fist menacingly*!
I love my Arcade Gold game from JAKKS Pacific. Arcade Gold featuring Pac-Man is of the plug-n-play video games variety.
This miniature game system plugs directly into your TV. Arcade Gold featuring Pac-Man has eight different games to play. All of them are 1980's arcade classics: Pac-Man, Galaxian, Dig Dug, Rally-X, Bosconian, Super Pac-Man, Pac & Pal, and Pac-Man Plus!
Played with the familiar arcade joy-stick, this Pacman – Plug & Play TV Game has all the original arcade game's style graphics, music & movements.
Back in the day, we used to have to pay a quarter for each game at the arcade! Now you can play all 8 of these classic video games as often as you want. Arcade Gold featuring Pac-Man retails for $19.99 and is available for purchase at Target, Toys R Us, WalMart, Kmart, Best Buy and Amazon.com.
This would make a fun gift for a former child of the 1980's. Actually, my preschooler enjoys taking a turn at the controls as well. Mama still has the high score, but Jojo likes the excitement of those pixelated graphics and digital music.
Just so you know, I usually make it past the Strawberry level. Go Mama!
For a chance to win your own Arcade Gold Featuring Pac-Man, visit the JAKKS TV Games website and tell me another game that interests you.
Who will be most excited to play your Arcade Gold Featuring Pac-Man?
One winner will be chosen at random.
This giveaway will close on Saturday, November 15th, 12 midnight CST.
*Congrats to Tonya!*