My life has been rife with lame New Years Eve celebrations.
I grew up in the Central Standard Time Zone, which meant that we would watch the Dick Clark New Year's Rockin' Eve countdown and watch the ball drop in NYC, only to realize about 15 seconds later that, hey, actually, it is only 11 PM here.
Always so anti-climatic.
Ringing in the New Year tends to make me extremely introspective. I am usually the annoying person who says things like, "This is the first photo I have taken in 2009! This is the first time I have eaten a potato chip in 2009!"
After a few minutes I become self-aware and keep my enthusiasm for all things new to myself.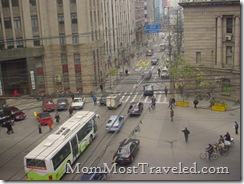 Once, long ago, in December of 2002, my husband and I decided to actually attempt to ring in the New Year in style.
We had already survived Y2K; it was time to get frivolous again!
We were working in Beijing at the time and came up with a grand scheme to spend New Year's Eve in Shanghai.
We had never been to Shanghai, and it sounded like an romantic and worldly plan, so we went for it. Two of our single friends came along with us.
Shanghai is several hours' flight from Beijing (China is huge), so of course we booked a hotel room sight unseen.
The view from the hotel was nice, but there was a problem.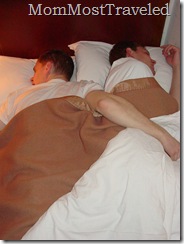 We booked a double room, anticipating two full sized beds (for us and our two single friends), but when we got into the room, there were only two TWIN beds.
It was inconvenient, but somehow I did manage to sleep in a twin bed with another person.
We arrived in Shanghai on 8pm, New Year's Eve.
We immediately went down to the center of town and joined a huge group of people under a big clock tower and jumbo movie screen.
We waited and waited in this huge crowd. There was absolutely nothing going on. No emcee, no program, nothing but vendors selling sparklers and squeaky puppets!
Somehow we met up with two guys from Montana, who we knew from Beijing. I don't remember if we knew they were in Shanghai or not. But anyway, one of the two guys was very loud, gregarious, boisterous, and usually hilarious.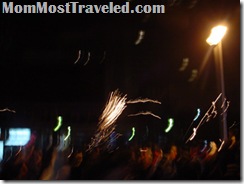 On this night, to my horror, the Big Montana guy started buying sparklers, lighting them, and hurling them into the crowd!
Definitely not my idea of a good time, fire throwing.
Did I mention I was terrified?
We were in a huge crowd of hundreds of young Chinese people, waiting to celebrate!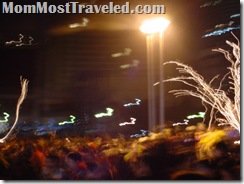 They started fighting back, buying their own sparklers and tossing them like handfuls of fiery confetti.
It was not fun! It was SCARY!
See those squiggly lines? That is what sparklers look like when you photograph them in flight.
The blur at the bottom of the photo is a mass of humanity.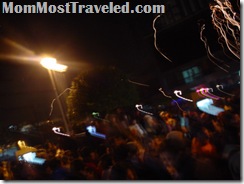 This sparkler war lasted for over an hour and involved dozens of strangers and one huge white guy from Montana.
When someone finally checked the time, it was 12:05.
There wasn't even a count down!
Apparently hundreds of people assemble in a public square under a jumbo TV screen for no reason at all on New Year's Eve in Shanghai.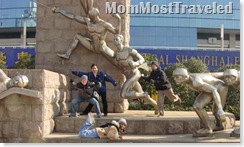 We spent two days sight seeing in Shanghai, and it wasn't bad. But it definitely wasn't the "New Years to Remember" that we were hoping for.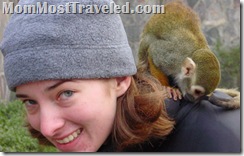 We did get to wander through the Shanghai Zoo, which seemed to be lacking any staff or other patrons.
We happened into some kind of monkey sanctuary, where the monkeys started walking up to us, friendly and curious.
It made for some cute photo opportunities, although I was nervous that I would be spontaneously and traumatically humped by a monkey. You just never know.
Final verdict: New Years Eve in Shanghai, China: two thumbs down.
I wonder what I missed in Beijing?