My 4-year-old has been potty trained since his second birthday. Of course, there are still things that he has yet to learn; why, just today I saw him in the bathroom with an 8 foot piece of toilet paper wrapped around his neck like a boa. My husband laughed in the next room as he heard me explain the Rule of Four Squares when it comes to toilet paper rationing.
I have posted about our potty training journey before on my old blog, but just in case your inquiring minds want to know, I don't mind sharing it again.
The year before I gave birth to Jojo, we lived in China. In China, many babies don't wear diapers. They wear special pants that look like chaps.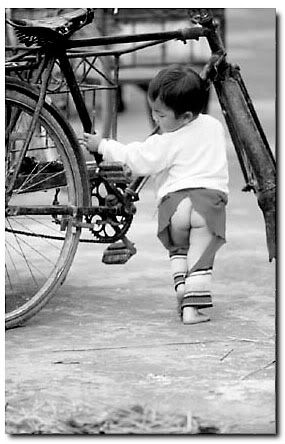 "But, don't they pee and poo everywhere?" you might say. That is what I thought too, until I saw the magic of "ba"-ing.
"Ba" is the Chinese word that is used to describe an amazing potty training technique that begins soon after birth. The baby his held in a certain position and the caretaker makes a sound, such as "pss pss pss" to get the baby to pee on command. Actually usually in China the signal is a low whistling sound. The child begins to associate the sound and the position with voiding, so they get trained to try to "go" whenever the caretaker holds them like that.
I was pretty impressed by this; I saw bare bottomed babies all over town! I saw dutiful dads holding their infant lovingly over a garbage can inside of a grocery store so that they could relieve themselves.
I started researching for literature in English to explain this technique to me better. I found a book called Infant Potty Training and ordered it off Amazon.com.
I tried to research online using search terms I discovered such as "elimination communication" or "EC", but I didn't find much free information other than personal testimonials.
Well, when Jojo was finally born, I waited until he was about 4 months old and then started holding him over a little BabyBjörn Little Potty (recommended for infants because of it's small size) every time he nursed (because he pretty much always pooped while nursing at that age).
A lot of times at home during the day I would just lay him on a pile of cloth diapers when he was playing on the floor (we had wood floors) and just let him pee without wearing a diaper.
The BabyBjörn Little Potty became part of our morning routine, when he would wakeup for the day I would always nurse him over the potty, or when he could sit up I would let him play sitting on the potty until he pooped. I never forced him to sit there if he stiffened his legs to resist.
If he was ready to get up, that was fine, even if he hadn't "gone" yet.
I don't know when it started but I have a memory of him being about 15 months old and walking on his own to get a Toilet Trainer seat to place on top of the big potty in a hotel we were staying in so he could go poo.
Eventually looking at board books was part of his potty routine as well.
We also had success getting him to pee every now and then using the signal sound and position, but I'll admit we are kind of lazy with it and he did wear diapers most of the day.
Before long he was pooping in the toilet 9 times out of 10.
I would say once he started walking, he pretty much always pooped in the potty, with me reminding him.
Every time we did the pee signal thing with him, he would actually go. It was just a matter of being extremely vigilant and making sure not to allow too much time to pass to where he would wet himself (it is easy to forget to stop playing and go potty when you are a busy little guy).
Most days, I was not up to the challenge to go diaper-less for more than a few hours, but it was a fun party trick.
He is a boy so he enjoyed peeing outside and I would say he was completely day trained by 24 months.
I never pushed him, he just suddenly "got it". We did use diapers regularly and I didn't spend a lot of time trying to "catch" the pee. Just a few times a day. He peed like every 20 minutes so it didn't seem worth it to try to get them all.
At 25 months, Jojo started attending a nursery school three mornings per week. He went without diapers and did a great job in his "big boy underwear".
I think EC is a great thing.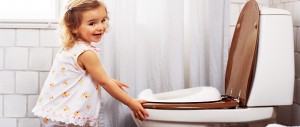 I don't bring it up in daily conversation because I figure some people will have a critical opinion and think I am weird. But all I can say is, it works.
I think my approach was rather lax, and there was even a period of a few months when we were using disposable diapers quite a lot. I don't regret doing EC, and I don't know if being more consistent would have led to an earlier "graduation" or not. I'm happy with the results I got.
I hope that Deeds, my 16-month-old, has a successful potty training experience some time this year!
I can't imagine potty training without BABYBJÖRN potty products. And I am completely not kidding when I tell you that I actually contacted BABYBJÖRN to ask them if I could give away a BabyBjörn Toilet Trainer.
Maybe they thought I was a bit odd, but they agreed!
To enter for your chance to win a BabyBjörn Toilet Trainer, visit BABYBJÖRN and tell me another product that you love *ps, if you choose a carrier, tell me the specific name*!
They have a surprising variety of wonderful new products with that cool Scandinavian design that is so easy to love.
One winner will be chosen at random.
This giveaway is open to US residents.
This contest will close on January 9, 12 midnight CST.
*Contest closed! Congrats to Sara C!*