Parents of Invention is an amazing company. Founded in 2002 by a stay-at-home mom, Parents of Invention have given parents a voice for their creative ideas on how to improve products for babies and children.
I am totally smitten with their comfy, user-friendly Organic Baby Sling!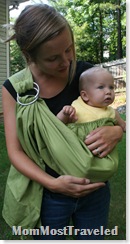 The Organic Baby Sling from Parents of Invention is made from certified organic materials. It is designed to hold infants from 6-35 pounds, but tested to hold much more! (although personally, I would be telling a 40 pound child to GET DOWN AND WALK!, but maybe that is just me…).
The Organic Baby Sling comes with an instruction booklet so that even the uninitiated can master the different carry positions. My three-year-old was especially excited about the positioning pillow that came with the Organic Baby Sling. He got eager to use it and asked if he could go take a nap. Hey, who am I to refuse?
I like it too! The pillow is the same color as the sling and has a darling little smiling baby face embroidered on it (the Parents of Invention Logo!). I have read before about the need for a positioning pillow when using a sling with younger infants, but I have never known a sling that comes WITH it's own pillow! Thank you, Parents of Invention, for giving parents everywhere one less thing to worry about!
I also like that the Organic Baby Sling has quite a lot of fabric and can create a nice deep pocket to keep your child snuggled in safely!
I love baby wearing for so many reasons. It is great for bonding, especially if your baby is what the experts tactfully call "high needs", like my first born who was pretty much angry if he wasn't being held or nursed.
Using the Organic Baby Sling is like having an extra pair of hands. You can "hold" your baby without imparing your ability to do other tasks.
I always feel proud of myself when I wear my baby in a public place (like the mall), and I am able to avoid standing in line for elevators because I don't have to deal with a cumbersome stroller!
There are many times while traveling that I find it easier to use a carrier than a stroller, even with an older toddler. It gives me much more mobility because I'm not limited to where wheels can travel.
I have always loved the idea of baby wearing. If you would like to try it and feel a little intimidated, check out informative web sites like www.wrapyourbaby.com or www.mamatoto.org. Each of these sites has a wealth of information for how to properly wear your baby in any type of carrier and in many different carrying positions.
The Organic Baby Sling is available for purchase at Babies R Us in your choice of "sage" or "black". I'm digging the "sage"!
Parents of Invention also make a fabulous Mei Tai carrier that I LOVE (this is one of my go-to carriers for air travel!), and the Ultimate Baby Wrap, which my little niece LIVES in!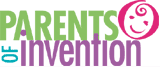 Parents of Invention is generously giving away one of their Organic Baby Slings to a Mom Most Traveled reader!
This is a retail value of $45, and a fabulous carrier for any baby or toddler!
To enter, just comment on this post and tell me which Parents of Invention product you would most like to have, and why?
Receive an extra entry by subscribing to my feed (by email or in a reader) and leave me a second comment telling me you did! (If you already subscribe, that counts too!)
One winner will be selected at random and contacted by email.
*Giveaway closed! Congrats to Mommy Instincts!