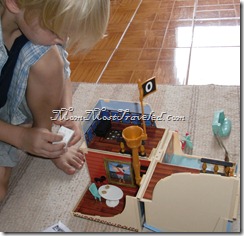 Spin Master toys brought us the Aquadoodle, and now they have created toys showcasing one of my favorite 6-year-old pigs: Olivia!
Olivia is the star of best-selling children's books and a Nick Jr. TV show.
I have never seen the show, but we are big fans of the books. When Jojo saw the Olivia 2-In 1 Playset, he seriously gave me an enthusiastic, spontaneous hug and said, "I LOVE IT!".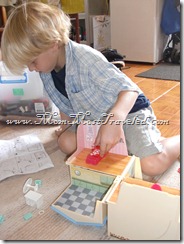 It is called the Olivia 2-In 1 Playset because you can "flip it" to play in Olivia's house OR a pirate ship.
The house has a bedroom, kitchen, and living room, and the ship has a bit of sand/water, below deck sleeping quarters, and a deck with a crow's nest!
The Olivia 2-In 1 Playset includes one Olivia figure with removable rubbery clothing, and 23 accessories such as a pirate hat, pirate eye patch, and house furniture.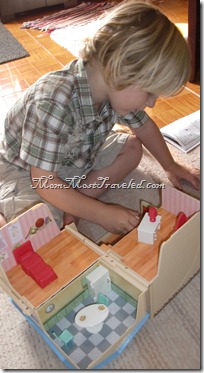 Some of the accessories are REALLY TINY. I gave my kids a coin purse to put the accessories inside before they shut it in the house.
Both of the boys (ages 3 and 6) really like playing with the Olivia 2-In 1 Playset, although Jojo as a little incredulous to learn that Olivia was female.
We read the books, but suddenly he was confronted with this toy pig wearing a dress and it hit him kind of hard.
He still plays with it though.
We also got an adorable Olivia The Artist plush.
She has on a beret and a little painting smock with paint splotches on it.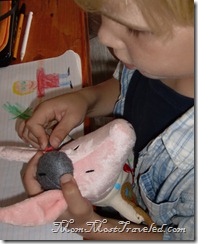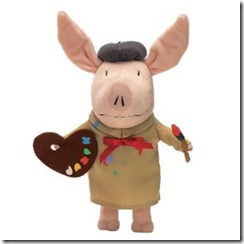 She has a plush paintbrush and palate connected to her hands. Or hooves.
Jojo used Olivia The Artist for company while he was engaging in his own artistry.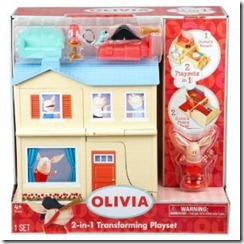 Olivia The Artist and the Olivia 2-In 1 Playset are available at Toys "R" Us, Target, and Kmart. Learn more about these cool toys at http://www.spinmaster.com !
I was given these products to review through the Team Mom division of Child's Play communications, on behalf of Spin Master Toys.