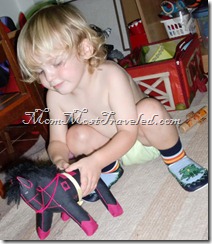 It has been quite cold lately, what with freak blizzards and record snowfalls.
Nowali is making sure little feet are protected with four new styles of their award-winning Swedish moccasins.
The four new styles are inspired by spring and include a flower, frog, dot and boat style.
Nowali materials meet the Öko-Tex Standard 100, an 'eco' standard which ensures they contain no harmful dyes or substances.
The four new styles are:
Dots & Stripes- Sizes 6M-2Y (Available in Pink or Red)
Frogs-Sizes 6M-2Y (Available in Blue or Brown)
Sailboat-Sizes 6M-2Y
Spring Flowers-Sizes 6M-4Y
Deeds got the Frog style in blue, and was busy hopping around being a frog in them instead of properly modeling.
The moccasins are stitched together by hand using traditional Swedish techniques!
Nowali moccasins are comfortable, soft, and available in lots of colorful designs.
Nowali moccasins have non-skid leather soles so you don't have to worry about slips and falls on hardwood and tile floors.
The soft soles make Nowali moccasins ideal for beginning walkers, but lucky for every one else, they come in a wide range of kids sizes!
I want my own pair one of these days.
Nowali is giving away one winner's choice of the four new spring styles!
1.) To enter to win, leave me a comment with which style you would choose as your prize!
Please don't just comment with "Enter me" or "Sounds great". That totally annoys me. Those entries are not eligible to win.
One winner will be chosen by random number generator.
This giveaway is open to those with a US mailing address.
2.) Email subscribers get an extra entry for as long as their subscription is active.
Already a subscriber? Leave me a separate comment on this post to let me know you're interested in this giveaway.
Want to subscribe? Just click here:  Subscribe to Mom Most Traveled by Email (Only verified subscriptions are entered for all the giveaways.)
3.) Twitter about this giveaway (include a link to this page and@MomMostTraveled ) and comment here with your Twitter name.
4.) Blog about this giveaway, including a link to this post. Leave me a comment with the link so I can check your post!
This giveaway will close on February 22, 2010, 11:59 pm EST.
Contest closed! View winner announcement here!