I will admit that I have a bit of bias toward products designed in Scandinavia or Japan. For some reason, in my mind, those two places are the origin of the majority of high quality, artistic, and functional lifestyle products.
Case in point: Nowali moccasins. These Swedish-made soft-soled slipper socks have been a lounge wear staple in Scandinavia for 50 years, and have been on my wish list for at least ten!
Classic moccasins by Nowali (rhymes with grow-a-tree) are a great house shoe with a one piece design that makes them easy to put on, and elastic at the top helps them stay on.
It's like 'sock meets shoe', a knit sock upper with a leather sole. The moccasins are stitched together by hand using traditional Swedish techniques!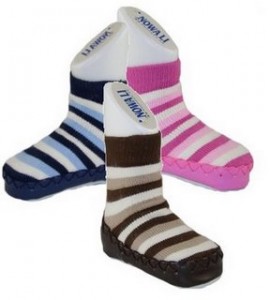 Nowali moccasins are comfortable, soft, and available in lots of colorful designs.
Nowali moccasins have non-skid leather soles so you don't have to worry about slips and falls on hardwood and tile floors.
The soft soles make Nowali moccasins ideal for beginning walkers, but lucky for every one else, they come in a wide range of kids sizes!
And? I'm pretty excited that adult versions have just been introduced! Whoop!
Want some? Use coupon code HAPPYFEET for a 10% discount AND free shipping for orders over $40!  Discount code expires 12/31.
Nowali is giving one Mom Most Traveled reader a pair of Nowali Moccassins in your choice of color and size!
1.) To enter to win, visit Nowali and leave a comment here with the exact color/style and size you would like to win!
Please don't just comment with "Enter me" or "Sounds great". That totally annoys me. Those entries are not eligible to win.
One winner will be chosen at random.
This contest will close June 17, 2009, 11:59 CST.
Contest closed! Congrats to Rhonda Mason, comment number 182.