Deals on Children's Products
Online children's boutique Chittypulga has Zutano canvas shoes for kids on sale for 50% off right now, making them a cool $10. And if you sign up for their email list, you get a coupon for $10 off your purchase. So theoretically you could have $20 shoes for only the cost of shipping. I'm really tempted. I haven't gone for it yet though.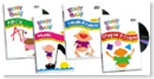 Get a "free" Brainy Baby DVD for only $6.95 (cost of shipping) at http://www.myfreebrainybaby.com/
One per household. You can choose from a selection of four of Brainy Baby's most popular titles.
Helping Kids Learn How To Be Green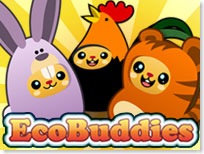 As a parent or teacher, teaching elementary school-aged kids about being green is awfully tricky. Eco-minded behaviors like buying less 'stuff' and reusing old materials are actions that if not taught in a fun, accessible manner, can seem quite dreary to a younger audience. However, there is a busy children's virtual world on the web for kids 5-13 called EcoBuddies that makes going green both fun and informative (www.ecobuddies.com) through its games, educational materials, contests, opportunities for kids to support endangered animals and more.
The logic behind EcoBuddies is to normalize environmental living to kids by placing eco-themed objects throughout its virtual world like an electric car dealership and recycling bins, as well as giving interested children eco-activities and green information on its blogs daily (www.ecobuddiesblog.blogspot.com and www.gogreenwithecobuddies.blogspot.com).
Starting September, there will also be an area within the virtual world where kids, parents, and teachers can read e-books about green topics, learn about animals, and download scavenger hunts that kids can use to study nature outdoors.
EcoBuddies' CMO and co-owner Ferma Ravn-Greenway, BSW, is an environmental/family social worker and says that the spirit of EcoBuddies is founded upon making green living fun, dynamic, and a normal way of life.
"As a social worker I have explored environmental issues with many kids and classrooms and the fascination with nature and being green is always there, but as soon as content becomes too instructional kids lose interest," she says. "So, EcoBuddies is really trying to be a dynamic and enjoyable tool for parents, teachers, and kids to learn about the environment and the great response we have gotten from our audience shows that we are reaching this goal."
EcoBuddies is safe (moderated, with safe chat features) and free for all players. If a child would like to access certain features within the game there is the option to pay for a membership, which gives kids the ability to buy costumes, clothes, pets, houses, and furniture for their online characters.
Additionally, on the 20th of each month EcoBuddies hosts Buddies for Baby Animals where 10% of the revenue made from new memberships go towards supporting an endangered animal of its players' collective choosing. EcoBuddies and its players have already adopted a baby Sumatran Tiger named Rory and bought 30 rubber nipples for nursing giant pandas in China as a result of this special day.
To visit this wonderful and inspiring site, please go to www.ecobuddies.com. To access its blogs and teaching materials please visit: www.ecobuddiesblog.blogspot.com, www.gogreenwithecobuddies.blogspot.com, or www.scribd.com/violetandpesto!
Healing the World
I wanted to share this hope-inspiring YouTube clip with you which highlights a trip to Thailand made by the YMCA of Greater New York.
These kids are in the Global Teens program, which engages them in   community service projects.
From building a YMCA after school center to spending time with local village children, the teens spent 15 days completing numerous community service projects, all while taking in the rich culture of the world around them. All the footage was shot by the teens and their counselors during their trip. And I love Thailand.
They tell me a similar program called Go Global is available for adults seeking unique travel experiences centered around community service and is also available through the International YMCA.
Accolades
See Kai Run, maker of adorable and comfy "first shoes" for up to age 3 (size 8) has been chosen as one of the outstanding products for 2009 by iParenting!
The iParenting Awards, part of the Disney Interactive Media Group, is the leading family products evaluation program that is committed to helping parents make informed decisions as they choose products for their families. Way to go SKR!