I got new books! Lots of books! This assortment will strengthen your progeny in both mind and body.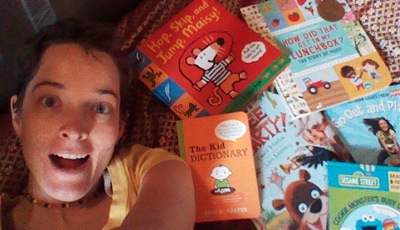 Let's Have a Tree Party! By David Martin, Illustrated by John Manders, is a very ACTIVE celebration by a bevy of forest creatures, both diurnal and nocturnal.
Ages 2 to 5 will love this one!
Hop, Skip and Jump, Maisy!: A Maisy First Science Book By Lucy Cousins is a new favorite at our house!
Not only does it feature Maisy doing fun and active things, it is a pop up book!
Just pull the tabs, and your favorite mouse will show off fun actions that children will want to imitate.
Hop, Skip and Jump, Maisy!: A Maisy First Science Book is great for ages 2 to 5…and older Maisy fans!
…
Cookie Monster's Busy Day: Brand New Readers By Sesame Workshop, Illustrated by Ernie Kwiat, is a wonderful and compact set of reading books leveled for ages 4 to 7.
Young readers can learn about healthy habits when they discover the answer to questions such as, What is Cookie Monster's favorite color to eat? How many ways can Cookie, Elmo, Abby, Big Bird, and pals move along in a parade? From washing up to making his bed, Cookie's day is as full as his belly! …
Go Out and Play!: Favorite Outdoor Games from KaBOOM! is a book of instructions for more than seventy best-loved games that can be enjoyed outside by children ages five and older!
Get ready for warm days outside with Go Out and Play!: Favorite Outdoor Games from KaBOOM!!
… How Did That Get In My Lunchbox?: The Story of Food By Chris Butterworth, Illustrated by Lucia Gaggiotti, was the American Farm Bureau Best Book of the Year!
The illustrations are retro and interesting, taking readers on a behind the scenes look at farms, dairies, and more!
A fun and silly book for ages three and older, Animal Masquerade is a costume party in which animals dress as other animals.
It makes for some silly visuals when a ladybug masquerades as a hippo!
I love the stark illustrations in The Big Green Book of the Big Blue Sea.
This is an informative scientific exploration for ages 8 and older.
Young scientists will gain a hands-on understanding of how "booms" clean oil spills and how a garbage patch roughly twice the size of Texas came to exist in the middle of the Pacific Ocean.
In Daisy's Perfect Word, Daisy is a lover of language.
She collects words in lists in her favorite notebook.
Children ages seven and older will enjoy this tale, as Daisy's teacher gives her the PERFECT word! …
Earth-Friendly Buildings, Bridges and More: The Eco-Journal of Corry Lapont
features Corry Lapont: 12-year-old and aspiring "green" engineer.
This dynamic title takes the form of Corry's scrapbook. It's a dazzling collection of postcards, brochures and other memorabilia documenting Corry's research into green design. Kid-friendly language explains the engineering behind some of the planet's most cutting edge towers, bridges, tunnels, domes, dams, dikes, locks and levees. These structures include the Vizcaya Bridge in Spain, where gondolas transport cars over the Nervion River, and the Channel tunnel, where trains speed between England and France in just 35 minutes. Readers will explore the environmental impact of structures, such as the pros and cons of dam construction and how rainwater can be used to cool buildings. Complex concepts are clarified with simple activities, as well as colorful drawings, fun facts and the occasional wisecrack from Corry's kid brother, Riley.
Faith: Five Religions and What They Share is a thorough way to introduce children 8 and older to different aspects of Buddhism, Christianity, Hinduism, Islam and Judaism.
The book includes historical origins and beliefs, holy texts, religious clothing and places of worship for each faith. Readers also learn about the values, customs and symbols all five religions share, such as the golden rule, charity, prayer and candles.
Straightforward, simple text makes the content interesting and accessible, as do the vivid photos of children around the world. Parents and teachers will find Faith: Five Religions and What They Share an invaluable tool for teaching youngsters tolerance and respect for people of different beliefs.
… Grown ups should read too! If your brain is too tired for something deep, pick up The Kid Dictionary: Hilarious Words to Describe the Indescribable Things Kids Do, a hilarious lexicon of words that should have already existed:
FEELABUSTER: (FEEHL-uh-buhs-tur) v : To pat down your toddler before she leaves a play date at someone else's house to make sure she isn't stealing any toys.

 

Newton's EXCEPTION: (NOO-tuhn's ek-SEPT-shun) n :The explanation to one's child that a helium balloon lost outside is never coming back.

DETASTE: (dee-TAYST) v : To harbor a deep hatred and disgust for a food you have never tried.

ERADICRAP: (ee-RA-di-crap) v : To purge your playroom of old toys when your kids aren't around to protest.

"FULLISH": (FUHL-ish) adj : Too full to eat more carrots, yet fully prepared to consume an ice-cream sundae.