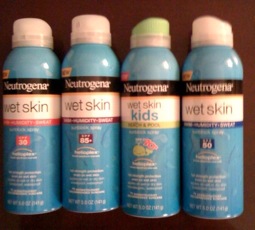 You know how you are supposed to reapply sunscreen every two hours when you are out swimming?
The Skin Cancer Foundation states "reapplication of sunscreen is just as important as putting it on in the first place" and advises to "reapply the same amount every two hours."
I have very infrequently abided by this recommendation. One of my main reasons is that sunscreen and wet skin don't mix.
Until now.
Oh yes. I have NEWS for you.
Neutrogena has DONE it.
Yes, Neutrogena, the #1 dermatologist recommended suncare brand, has created new Neutrogena Wet Skin Sunblock Sprays for adults and kids, specifically designed for wet skin.
They are SPRAYS and they are available in SPF 30, SPF 50, SPF 85, and a special kids version that is SPF 70.
The whole family can be protected from damaging UVA/UVB rays.
I love the entire concept. I was a slow adapter of spray sunscreen, but for Wet Skin Sunblock, I like it.
I also love that this is a Neutrogena product, because Neutrogena is one of the only sunscreen brands I can use on my face without having a breakout or swollen lips.
I am developing some zany skin sensitivities in my old age, I tells you.
Buy online you will save $2 on all sunscreen products! Click here to check out all their sunscreen products and to take advantage of the savings.
"I wrote this review while participating in a blog tour campaign by Mom Central Consulting on behalf of Neutrogena and received sunscreen and other Neutrogena products as a thank you for my participation."