My kids got to live the dream last week and attend an advance screening for Ice Age: Collision Course, which opened in theaters on July 22nd.
The movie was cool enough, but they also got to meet and interview Neil deGrasse Tyson, and then go with him to the American Museum of Natural History.
You might be wondering, what is the tie-in here? In the movie, Neil deGrasse Tyson voices an astrophysicist weasel. I don't want to spoil anything (haha) but I do want to gush about what an amazing, kid-friendly, educator-at-heart Mr. Tyson (Mr. deGrasse-Tyson?) was at the event.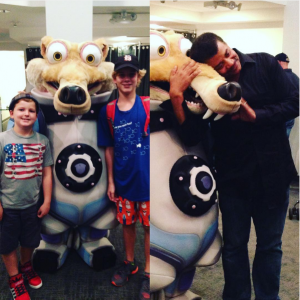 He answered all kinds of questions from the kids, even about his preferences in Broadway musicals, and my favorite, how he became an astrophysicist.
Neil deGrasse Tyson: I was nine years old, and it was a

family trip to my local planetarium, the Hayden Planetarium. In

fact, that's where you're all visiting in a couple of hours.

You are leaving here, going to the American Museum of Natural

History, where I went at age nine. My parents brought me, my

brother, and my sister, saw the dinosaurs, saw the animals, and

we went to the planetarium. And we sat in a room, it got dark,

the stars came out, and I think the universe chose me. It said,

"You will be an astrophysicist one day." And I've been hooked

ever since.
My older son is 11-years-old and very science minded. I was so pleased and proud that he got to spend the afternoon figuratively sitting at the feet of the most well-known astrophysicist (in my world, which is admittedly limited).
I could tell he was inspired, and I was too!
But enough fan-girling over Neil: my family said the movie was really great, too!
Like Ice Age: Collision Course on FACEBOOK
Visit Scrat on FACEBOOK
Follow Ice Age: Collision Course on TWITTER
Follow Ice Age: Collision Course on INSTAGRAM
Connect with Ice Age: Collision Course Online
Get your tickets via Fandango for Ice Age: Collision Course in 3D!
This is not a sponsored post. My family was hosted at this event, they had a fantastic time, and we are very, very grateful!