This week I am participating in a Book Giveaway Carnival, hosted by Book Room Reviews. Lots of great book giveaways are starting today!
Nature Discovery In My Backyard is a book written for preschoolers and early readers about the environment that is all around them.
I am striving to be more green, eco-friendly, and environmentally aware in my home. I have often wondered how I can pass these values on to my young children without frightening them with scary tales of greenhouse gases.
Nature Discovery In My Backyard is the perfect book for sharing lofty ideas about ecology with little ones.
The book follows a little girl who is exploring her yard. She finds interesting things like a butterfly, a praying mantis, a bluebird, and soft, green grass.
Things that captivate your child when you are outside together make for great "mini nature lessons."
The rhyming text and the beautiful illustrations never fail to hold my child's attention.
I especially love reading nonfiction books to preschoolers, because their minds are so absorbent. I enjoy filling hungry minds with factual information.
Nature Discovery In My Backyard has a Tips For Nature Discovery section, to give parents and educators good ideas for exploring nature with children year-round.
The Nature Notes in the back of Nature Discovery In My Backyard give more detailed information about things like animals you might see, the life cycle of butterflies, and interesting facts about leaves. These Nature Notes are a big help for parents for answering questions from inquiring minds!
Nature Discovery In My Backyard is the first in a series of great eco-minded books from The Little Environmentalists. The second book in the series, I'm Turning Green, will be released soon.
Nature Discovery In My Backyard is available for purchase on The Little Environmentalists website (and Amazon.com) for $6.95.
The Little Environmentalists, LLC, is a company committed to developing and publishing children's material to promote environmental awareness, appreciation, knowledge, and stewardship.

The Little Environmentalists proudly print their books using 100% post-consumer waste, chlorine free and non-toxic toner. Environmentally friendly printing preserves forests and habitats, keeps toxic chemicals out of the environment and generates fewer greenhouse gases. It has been estimated that producing a ton of paper using 100% post-consumer copy paper rather than virgin pulp saves about 24 large trees, 4,000 kilowatt hours of electricity, 60 pounds of air pollution and 7,000 gallons of water.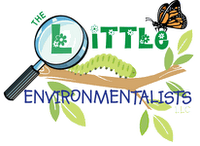 The Little Environmentalists would like to give away a copy of Nature Discovery In My Backyard to one Mom Most Traveled reader!
To enter, leave a comment on this post about how you try to teach others about caring for the environment.
One winner will be chosen at random.
This giveaway will close on Saturday, November 8, 12 midnight.
*Congrats to Andrea (comment #77)!*

Visit Book Room Reviews for lots of great book giveaways!