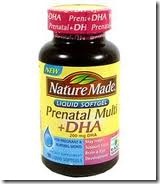 My first born was a very high maintenance baby and a terrible sleeper. He slept through the night exactly one time when he was 9 months old, and that was because of jet lag. He didn't do it again until he was 2 1/2.
Anyway. When I was pregnant with my second child I began to take DHA supplements along with my prenatal vitamins.
DHA is an omega-3 fatty acid, which is passed directly from the mother to the child during pregnancy and through breastfeeding.
DHA is an essential nutrient and plays an important role in brain and retina development during fetal development and infancy.
I read many things about the benefits of DHA: one study said babies whose mothers had taken DHA supplements had better hand-eye coordination. One said that perhaps there was a connection between DHA deficiency and ADHD.
When my DHA baby was born, he was an absolute dream of a sleeper. He actually used to giggle and snuggle down into the mattress when I laid him down for bed.
Can I prove that DHA supplements resulted in an easy, laid-back baby? No.  But do you think I will take DHA supplements next time I am pregnant? You better believe it!
He also took his first steps on his 9 month birthday. I know! I was blown away.
Now he is a real three-year-old. He is wild and he doesn't always do what I say. But I feel like I gave him a good start in utero!
I continue to take DHA supplements for my own health, even though I'm not pregnant.
Nature Made, a vitamin and supplement company, offers Nature Made Prenatal Multivitamin with DHA in one single softgel!
It is a multivitamin WITH 200 mg of DHA. Awesome!
Each softgel contains:
200mg DHA
800mg Folic Acid
Vitamins A,C,D and Zinc
Iron
B – Complex (Vitamins B6, B12)
EPA/DHA, Niacin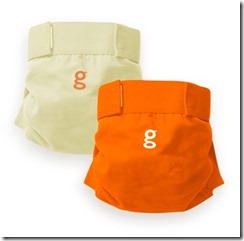 Nature Made is offering a prenatal gift pack giveaway! One winner will receive a 9 month supply of Nature Made Prenatal Multivitamin with DHA, two 2-packs of cloth g-diapers and a "Just for Baby" food processor.
1.) To enter for your chance to win, leave a comment with some advice for a healthy pregnancy.
2.) Email subscribers get an extra entry for as long as their subscription is active.
Already a subscriber? Leave me a separate comment on this post to let me know you're interested in this giveaway.
Not yet a subscriber? Subscribe to Mom Most Traveled by Email (Only verified subscriptions are entered for all the giveaways.)
3.) Twitter about this giveaway (include a link to this post and @MomMostTraveled) and comment here with your Twitter name. (once daily)
4.) Visit my video page and leave a comment about my general awesomeness (in the comment box at the bottom of this page:http://iwearyourshirt.com/hiring/application/7424/can-can-broom Then comment on this giveaway post telling me what name you commented with. Note: the box says "full name", but really you don't have to put your full legal name. Put your nick name or first name or whatever.
This giveaway is open to those with a US mailing address.
This contest will close on November 6, 2010, at midnight CST.
I wrote this review while participating in a blog tour by Mom Central on behalf of Nature Made and received the products necessary to facilitate my review and giveaway.