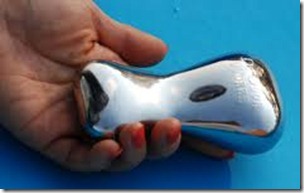 What if you had a deodorant that was all "everlasting gobstopper", affordable, and chemical free?
Guess what?
It exists.
De Odor Works – Natural Deodorant Alternative is a dream come true for travelers, healthy folks, eco-friendly folks, and thrifty folks.
De Odor Works is an innovative odor eliminating product made entirely of medical grade, lightweight (approximately 2 ounces) stainless steel.
Its secret is the unique reaction that occurs when ordinary running tap water and stainless steel combine to neutralize odor. Using stainless steel with running water is a recognized method of eliminating the volatile sulfur compounds (VSC) that cause odor. Stainless steel is biocompatible to human tissue, so you can use De Odor Works anywhere on your body without any adverse effects.
Allow me to illustrate this with a drawing of people washing various body parts with De Odor Works. It made me giggle. Yes, my sense of humor has not evolved much since middle school.

Keep in mind De Odor Works is not an anti-perspirant, but it can keep away the stink.
De Odor Works is carry-on approved as it contains no gel, powder, or liquid.  But it could be fun to put in your pocket for a good old fashioned TSA pat down.
I bet you wonder, "how much can something this amazing cost me?"
One million dollars.
Just kidding. It is $19.95. Get De Odor Works on Amazon.com and get you some free Super Saver shipping. Woohoo!
Learn more at http://www.deodorworks.com/.