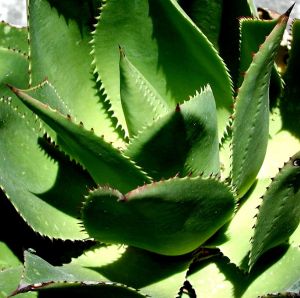 Ayate is a fiber that comes from the maguey plant, native to Mexico.
Ayate has many uses because of it's durability, resistance to mildew, and natural origins.
Mystic Wonders, Inc., offers a 12×12 Ayate cloth that can be used wet or dry for a variety of purposes.
I love it when I discover a product that simplifies my life in some way. The Ayate cloth is one of those things!
It is great for exfoliating the skin, and can be used with or without soap for a long list of benefits:
Revitalizes the whole body.
Sheds impurities.
Exfoliates dead skin cells.
Cleanses pores.
Stimulates circulation.
Improves the complexion.
You can even use your Ayate cloth to scrub veggies!
The cloth is long lasting, quick drying and better than a loofah. It resists mold and is machine washable. Most people rinse the cloth well after use and hang over towel bar to dry.
Useful in the kitchen and bathroom as a mar-free utility cloth.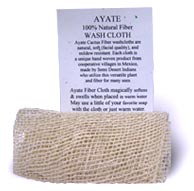 Mystic Wonders, Inc. Ayate cloths are hand woven by artisans using pre-Columbian techniques.
Thanks to the generous folks at Mystic Wonders, Inc., two Mom Most Traveled readers will win his or her own Ayate Cloth!
1.) Just visit Mystic Wonders and tell me how you might use your Ayate cloth! (You may enter once a day – following entries don't require you to answer the question.
2.) Email subscribers get an extra entry for as long as their subscription is active.
Already a subscriber? Leave me a separate comment on this post to let me know you're interested in this giveaway.
Want to subscribe? Just click here: Subscribe to Mom Most Traveled by Email (Only verified subscriptions are entered for all the giveaways.)
3.) Copy and paste this sentence (including the links) anywhere in your blog (can be at the bottom of a random post):
MomMostTraveled.com is a family travel blog with great giveaways and product reviews!
Leave me a link in the comments of where to find it.
4.) Twitter about this giveaway (include a link to this page and @MomMostTraveled ) and comment here with your Twitter name.
Please don't just comment with "Enter me" or "Sounds great". That totally annoys me. Those entries are not eligible to win.
Two winners will be chosen at random.
This giveaway is open to those with a US mailing address.
This contest will close at 11:59 pm CST, April 14, 2009
Mystic Wonders, Inc. has more of their innovative, earth-friendly products up their sleeve for Mom Most Traveled readers, so stay tuned!