Jojo has been refusing to wear long pants or anything with buttons and zippers for well over a year.
I blame his Sensory Processing Disorder for this, but I also wonder if, at age almost-five-years, it might also have something to do with his inability to unfasten those trappings quickly enough to use the restroom independently.
Whatever the reason, recently I suggested he wear a pair of khaki shorts and he balked, saying, "I need a belt for those."
*Aha!* I thought, and got the Myself Belt we were sent for review.
Jojo was thrilled with the Myself Belt because he could easily fasten it and unfasten it on his own. He wore the enemy khaki shorts and the next day he actually allowed himself to be dressed in long pants with the Myself Belt to attend a religious service.
I'm really excited about the Myself Belt for Jojo's life because it is giving him the independence he craves.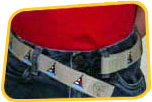 The way the Myself Belt works is that one end is anchored to a belt loop and the other end attaches to the anchor point with velcro. This allows for one-handed closure and easy opening.
Mom-invented, Myself Belt is great for potty training toddlers, but it also comes in adult sizes to accommodate those with special needs.
Myself Belt comes in fashionable designs for both boys and girls. Jojo has the versatile Light Blue Striped Belt and they are also available in black or Brown Leather.
You can order a Myself Belt from http://www.myselfbelts.com and use coupon code MOST for 10% off.  (It is valid until 9/15.)