Follow my blog with Bloglovin…
In July, the boys and I drove from NYC to Philadelphia in a Kia Optima EX.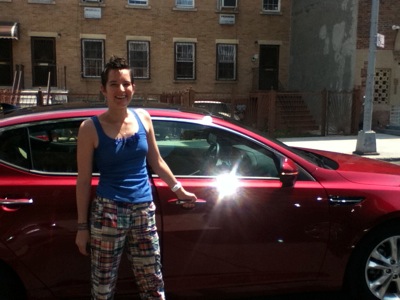 I don't have a car, since I live in NYC, and I have to say I really enjoyed the freedom of having a set of wheels. And not just any set of wheels. A frackin' awesome set of wheels with all kinds of bells and whistles. And a horn.
Because I'm talking about a car.
Driving out of Brooklyn, I encountered a $13 toll bridge. I used to work in Florida, and at that time, we could cross THE OCEAN on a toll bridge for like $1-$3.
And in this case, I was not crossing an ocean, but I had to pay $13. It was not awesome.
But even while getting robbed blind by tolls, the Kia Optima EX is awesome because:
It is all kinds of high tech. You can plug your ipod or smart phone or USB drive in to the car and it can access your music library.
Or, in our case, we had Sirius radio which worked for a short time until perhaps the car dealer subscription expired. But it was fun listening to the Blue Collar Comedy channel and/or 1970′s radio whilst it lasted.
These two pictures were taken just seconds a part. I am genuinely rocking out to some kind of music from a past decade, and the kids are sleeping soundly in the back.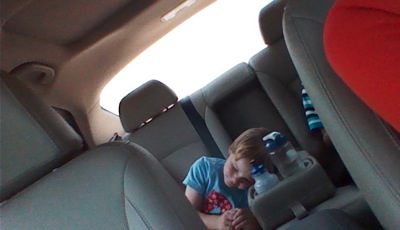 The GPS was a life saver! It told me directions out loud, and I never missed a turn.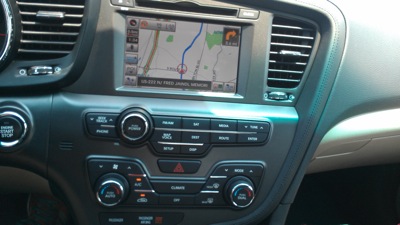 Also, see that screen? It also shows a camera view when you are backing up, which makes parking in the city a whole lot easier.
When we finally pulled up to the the Omni Hotel at Independence Park, right in the heart of the historic district of Philadelphia, we got valet parking (sah-weet!) and then were able to walk to nearby places of interest.
We walked to all manner of sites from our hotel, including Independence Hall, and The Liberty Bell.
This is the Irish Memorial at Penn's Landing, where we walked after eating Philly cheese steaks at Campos Deli: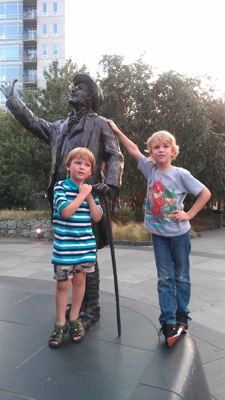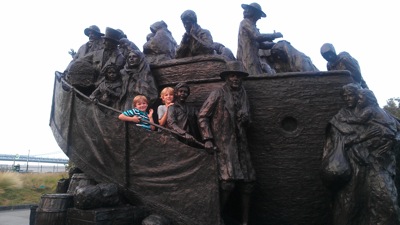 Back at the Omni Hotel, the kids were treated to free milk and cookies for their first night stay!
The next day we woke up and drove to Sesame Place.
More on that later, but you can view the album of our whole trip here: