I found this very touching story and want to post this, in the off-chance someone might read it and be able to help. My Tien Thi Tran will be returning to Vietnam in October to continue searching for birth relatives. If anyone can help, please email Jessica. She is My Tien Thi Tran's daughter.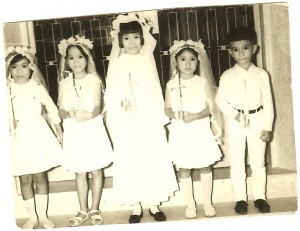 My Tien Tran as a child (2nd from left)
THIS IS MY STORY OF WHEN I WAS A BABY
By My Tien Thi Tran
THE YEAR WAS: 1957
WHERE: SAIGON GIA DINH, VIETNAM
NOW KNOWN AS HO CHI MINH CITY
There was a young couple with a small infant child. They were riding in a cyclo. When suddenly out of nowhere, came a big truck that hit the cyclo. All four were thrown to the hard ground. The cyclo driver and the woman were killed instantly. The man's legs had been brutally cut by the force of the cyclo being crushed by the brute force of the truck.
The man cried out to the overlookers, "Please, will someone help my daughter?" A woman approached the accident. She was on her way to visit her child in school. She watched as the Blue Cross came and took the man to the hospital. The woman followed the Blue Cross to the hospital and watched as they tended to the man. The man did not seem to feel the pain of his gruesome wounds, but would tell the nurses "Please help my child."
It was later known, that the child was taken to a Catholic orphanage. The woman that had overlooked that horrific accident, went home, and spent months pondering what had happened to that child. Five months later, the woman and her husband adopted the child and took the infant to her sister in a city far away called Quang Tri La Vang in the central highlands of Vietnam. The child was raised by the sister of the woman until she reached seven years of age, and then was returned to her adoptive parents.
I am that child!
My name is My Tien Thi Tran.
This is the name that was given to me by adoptive parents. I am desperately wishing to find my father or any relatives that I may have in Vietnam
If you're not touched by this story, well, you're made of stone!
What an incredible story of tragedy, love, loss, and hope.
Jessica is trying to bring as much attention and exposure to her mother's story as possible, in hopes it might propagate far enough and wide enough to touch someone who can help her reunite with her birth family. If you'd like to help, either link to this post or publish it on your blog.
Drop a comment to let us know you're supporting My Tien Thi Tran's cause (so we can thank you and watch her story spread).
In Vietnamese:
?ây là câu truy?n khi tôi v?n còn là m?t cô bé,
b?i Tran Thi My Tien
N?m 1957, t?i Gia ??nh, Sài Gòn (bây gi? là Tp. HCM), Vi?t Nam.
Có m?t c?p v? ch?ng và m?t ??a tr? nh?. H? ?ang ? trên m?t chi?c xích lô, khi m?t chi?c xe t?i b?t ng? tông vào. C? b?n ng??i v?n xu?ng ???ng. Ng??i ph? n? và ng??i lái xe t?i ch?t t?c kh?c, trong khi ng??i ?àn ông b? ch?n th??ng n?ng chân do b? chi?c xích lô, chèn b?i chi?c xe t?i, cán ngang.
Ng??i ?àn ông kêu c?u t? nh?ng ng??i xung quanh: "Xin hãy giúp con gái tôi!". M?t ng??i ph? n?, trong khi trên ???ng ??n ?ón con, ?ã cùng xe c?u th??ng ch? ng??i ?àn ông ?i. Ng??i ?àn ông d??ng nh? không h? c?m th?y ?au ??n b?i v?t th??ng n?ng ? chân mà luôn mi?ng b?o cô y tá "Xin hãy giúp con tôi."
Sau này, ng??i ta bi?t r?ng cô bé ?ã ???c chuy?n ??n m?t côn nhi vi?n công giáo. Ng??i ph? n? ?ã ?i cùng v?i ng??i ?àn ông trên chi?c xe c?u th??ng hôm nào quay tr? v? nhà và suy ngh? v? nh?ng ?i?u s? x?y ra v?i cô con gái trong nhi?u tháng. N?m tháng sau, ng??i ph? n? cùng ch?ng nh?n cô gái làm con nuôi, chuy?n vào Qu?ng Tr? – m?t thành ph? mi?n trung Vi?t Nam, và g?i cho ng??i em gái nuôi ??n khi cô ???c 7 tu?i, và sau ?ó nh?n l?i.
Tôi là ??a tr? ?ó.
Tên tôi là Tran Thi My Tien. ?ây là cái tên mà ba m? nuôi ?ã ??t cho tôi. Tôi r?t mong mu?n g?p l?i ba tôi c?ng nh? nh?ng ng??i h? hàng khác c?a tôi. Tên mà ba m? ru?t ?ã ??t cho tôi là Nguyen Thi Lan.
"Tên mà ba m? ru?t ?ã ??t cho tôi là Nguyen Thi Lan."