A lot of things don't have gluten, such as "carrot sticks". But what if you are on the road and you have the munchies, and you just want to be normal? Don't worry. You are normal.
Try this awesomeness:
Beanfields. Corn free, vegan, gluten free chips made out of beans and rice. I know! They contain protein and come in cool flavors like Nacho. 
Pirate's Booty! Made from rice and corn, some varieties are vegan friendly. They are a new generation of "puffs" snack, with a kick-ace name! My kids love this the mostest.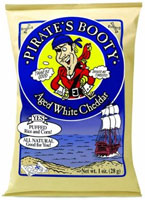 Mary's Gone Crackers! They sent me a variety of gluten free, dairy free deliciousness including cookies and pretzel sticks. 
My only complaint? I consistently ate the entire box/bag of Mary's Gone Crackers deliciousity in one sitting, rather than sticking to the serving sizes. Oopsie. Magically delicious!
Note: With Mary's Gone Crackers cookies, you will NOT say things like "it is pretty good…for gluten free." Nay. You will say "Pass me 6 more please."
…
Roasted seaweed with a little oil in crisp sheets and fun flavors?
Yes. I use these to make salad wraps, or eat the smaller packages on-the-go.
Word to the wise: when you babysit for a Japanese family, do not bring only one package for your own lunch. They will be begging you for a bite all afternoon.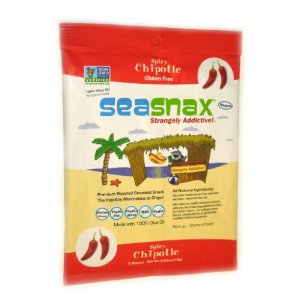 I love almonds. They rule. You can get tasty delicious Wonderful Almonds in "raw", "roasted", "roasted and salted", etc. 
What I appreciate about Wonderful Almonds roasted and salted is that they use just the right amount of salt so that you aren't running desperate for a beverage. My four year old and I eat these like they are going out of style.
But delicious almonds NEVER go out of style.