List your giveaway here, or just go browse!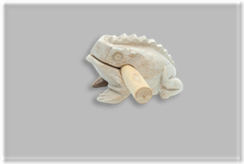 When I was "window shopping" the Mystic Wonders, Inc. online catalog, I saw a product they call the Feng Shui Frog.
"Haven't I seen you somewhere before?"
These frogs are sold all over the place in Thailand as a handicraft/souvenir.
In fact, I bought one on my very first trip to Thailand in 2002. I have been back several times, and the frogs are still easily located in any "stuff" market.
Made from teak wood, the frogs come in a variety of sizes (from tiny to huge).
Did you know that younger teak trees have a lighter colored wood? I only learned that after many years of confusion looking at all different shades of teak furniture in Southeast Asia.
We bought our frog for use as a percussion instrument, and it definitely has kid appeal in that regard.
You can remove the stick from the frog's mouth and use it to rub the back of the frog. The action produces a frog-like "croaking" sound.
The larger the frog, the deeper the sound.
They are very eye catching and always attract attention from visitors to our home.
I had never heard of the Feng Shui aspect of the frog before visiting Mystic Wonders, Inc.
Mystic Wonders, Inc. founder Fern Gunderson has learned:
Placing the frog facing your entrance improves prosperity.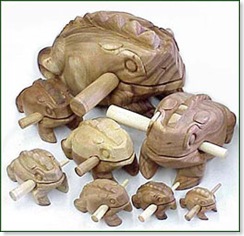 We love our frog because it is a beautiful, natural, sturdy folk toy from one of our favorite places in the world, Northeast Thailand!
Thanks to the generous folks at Mystic Wonders, Inc., one Mom Most Traveled reader will win his or her own Feng Shui Frog!
1.) Just visit Mystic Wonders and tell me SOMETHING YOU LEARNED from the website! (You may enter once a day – following entries don't require you to answer the question.
2.) Email subscribers get an extra entry for as long as their subscription is active.
Already a subscriber? Leave me a separate comment on this post to let me know you're interested in this giveaway.
Want to subscribe? Just click here: Subscribe to Mom Most Traveled by Email (Only verified subscriptions are entered for all the giveaways.)
3.) Copy and paste this sentence (including the links) anywhere in your blog (can be at the bottom of a random post):
MomMostTraveled.com is a family travel blog with great giveaways and product reviews!
Leave me a link in the comments of where to find it.
4.) Twitter about this giveaway (include a link to this page and @MomMostTraveled ) and comment here with your Twitter name.
Please don't just comment with "Enter me" or "Sounds great". That totally annoys me. Those entries are not eligible to win.
One winner will be chosen at random.
This giveaway is open to those with a US mailing address.
This contest will close at 11:59 pm CST, March 29, 2009
Feng Shui Frog Drum congrats Peter, comment #103 with a daily entry!