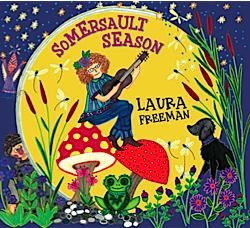 Disclaimer: I am a huge nerd. I spent over an hour in the children's library today and my heart was full. I like school supplies. I love things that are educational and mind-opening.
That said, I was thrilled when I gave Somersault Season a listen.
This is an adorable, eclectic (I mean, I think I heard some full-on yodeling in here…) CD from Laura Freeman that was just released July 11th.
Somersault Season is a journey through the four seasons of Spring, Summer, Fall, and Winter (recently my son was in a confusing situation of being asked many questions about "Autumn", and he has grown up in living in a climate with only two seasons: rainy and dry).
Each season is introduced in a foreign language, which I find endearing and interesting.
The music is truly delightful. Some of the tracks are more like spoken word: a whimsical introduction to poetry.
Some of the tracks are folksy (In The Fall), and some make you want to march around the room (My Brother's a Monster, Look in a Book) , and some make you want to dance and be silly (Big City Little City, Can You Shake It?) .
Listening to Somersault Season actually made me get a bit verklimpt because I started thinking about how a CD like this could really open up the doors of a child's mind. One minute they are sitting in daycare uninspired, and the next minute, "Wow, I have never heard words and music like that before!"
I have been so blessed through review blogging that I have donated many educational products to a resource library for low income daycares, as well as to the public library, but I really want to keep Somersault Season for myself.
You definitely don't already have children's music like this in your collection.
Freeman's first children's music release, A Baker's Dozen, was voted one of the top children's albums of 2004 by www.JustPlainFolks.org.
Plus, my brother IS a monster…