Got a picky eater? No matter their food aversions, you can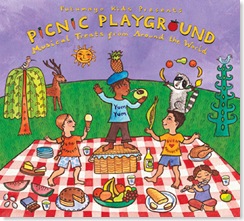 feed your little ones a steady diet of high-quality music! No more of that musical junk food, this is the good stuff!
Putumayo Kids Presents: Picnic Playground is a smorgasbord of delicious music from all over the world.
Putumayo Kids Presents: Picnic Playground kicks off with a laid-back ditty, "I Like To Eat Like a Rainbow." This song has stayed stuck in my head for days on end without driving me insane. I'd say that is the mark of a great children's song.
Other songs on the album come to us from around the world; places like Australia, Cuba, Denmark, France, Germany, Canada and Trinidad.
This music is the perfect backdrop for a relaxing and nourishing meal, whether your dining on Bolitas de Arroz con Pollo, or just Bowl of Cherries .
The liner notes are printed in English, French, and Spanish.
It is hard for me to pick a favorite song on this one: I definitely love the Caribbean flair of Ice Cream, but then there is the toe-tapping goodness of Shoo Fly Pie. And I just can't quit "I Like To Eat Like A Rainbow".
A percentage of the proceeds from the sale of Putumayo Kids Presents: Picnic Playground will be donated to Vitamin Angels, an organization that reduces child mortality worldwide by connecting essential vitamins with infants and children under five.
I'm raising two Putumayo Kids, and I'm sad we missed out on their summer concert series!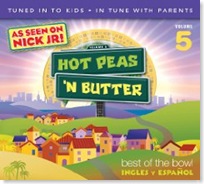 Hot Peas 'n Butter are dishing out some tasty tunes on Best of the Bowl: Ingles y Espanol with a family-friendly mix of Latin -Caribbean tunes.
When you listen to these lovely tunes, which range in style from Merengue to Puerto Rican Bomba, you just gotta move!
And you can boogie to a mix of Spanish and English vocals. Internationally groovin'!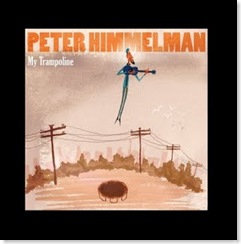 Peter Himmelman brings art and whimsy with his album My Trampoline, a new summer release from new family music label, Minivan Productions.
My Trampoline has something for parents and kids alike. My personal favorite is the song, "Are There Any Kids Named Steve Anymore?", but there are also tunes about an African leopard tortoise named King Ferdinand, trees, flowers, and a picky eater named Peter (I wonder if this one is autobiographical?).
Peter Himmelman hosts a live weekly web broadcast called Furious World , and the new "Peter Himmelman's Curious World" webcasts will debut on Sept 27th on the Land of Nod website.
Congratulations are in order to the talented artists who were winners in the NAPPA Awards for 2009!
GOLD Award winners
Banjo to Beatbox – Cathy Fink & Marcy Marxer
My Trampoline - Peter Himmelman
Soulville - Kevin Salem producer, Little Monster Records

HONORS winners
European Playground – Putumayo Kids
In the Kid Zone - Asheba
Happy Accidents – Billy Jonas
Pink – Rocknoceros
Somersault Season – Laura Freeman
Good news! I have copies of My Trampoline, Best of the Bowl: Ingles y Espanol , and Putumayo Kids Presents: Picnic Playground to giveaway!
1.) To enter to win, leave a comment letting me know which CD (My Trampoline, or Best of the Bowl: Ingles y Espanol , or Putumayo Kids Presents: Picnic Playground) you want to win and why! If you want to win more than one, leave a separate comment for each.
Please don't just comment with "Enter me" or "Sounds great". That totally annoys me. Those entries are not eligible to win.
Three winners (one for each title!) will be chosen by random number generator.
This giveaway is open to those with a US mailing address.
2.) Email subscribers get an extra entry for as long as their subscription is active.
Already a subscriber? Leave me a separate comment on this post to let me know you're interested in this giveaway.
Want to subscribe? Just click here:  Subscribe to Mom Most Traveled by Email (Only verified subscriptions are entered for all the giveaways.)
3.) One extra entry for every social bookmarking site you submit this post to (examples: Digg, StumbleUpon, posting on Facebook). Leave a comment for each with your user name.
4.) Twitter about this giveaway (include a link to this page and @MomMostTraveled ) and comment here with your Twitter name.
5.) Blog about this giveaway, including a link to this post.
You have lots of chances for extra entries!
This contest will close on September 6, 11:59pm CST