We got a happy surprise in the mail today from Team Mom on behalf of Moon Dough.
The Moon Dough Push N' Pop Breakfast set has cute little Push N' Pop tools for creating tiny toast, waffles, and pancakes from the the new formula of Moon Dough.
This little set retails for $9.99 and comes with 3 Push N' Pop tools, a twisty mold, yellow Moon Dough, pink Moon Dough, and a small cardboard play mat with a picture of a plate on it.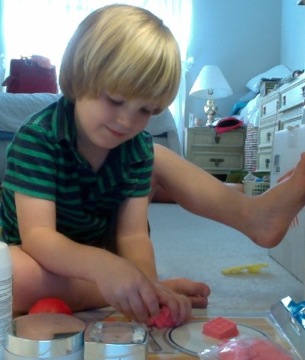 Deeds is just-turned-4, and he kept commenting on how very soft the Moon Dough feels. This new formula never dries out, is odor free, wheat free, and less crumbly than previous Moon Dough.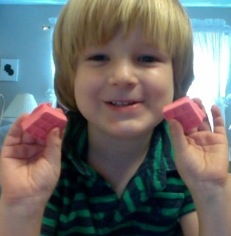 Deeds could operate the Push N' Pop molds on his own, but he needed help with the Twisty Mold, so I had my work cut out for me as he ordered strawberries to be made at a quick pace.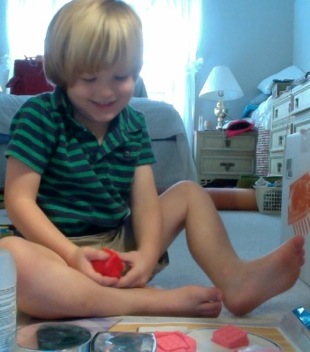 Deeds opened the package himself, and in doing so ripped off the "mold holders", little cardboard compartments on the side of the play mat meant to hold the pop molds. It didn't affect the play value of the set, just something you need to be aware of with zealous little ones.
I will also that that this set is really only big enough for one child to play with at a time. So if you have two kids close in age, go ahead and get more than one set. Trust me. Trust the woman who taught 16 3-year-olds last year.
I haven't tried it out with Jojo yet, but I think that the non-sticky, non-threatening texture of soft Moon Dough would be a great alternative to play dough for kids with sensory issues (like Sensory Processing Disorder aka SPD) or tactile defensiveness. I can't wait to see what Jojo thinks of it!