Hi Bloggy Giveaways Carnival friends! I'm CanCan, and this is my blog, MomMostTraveled.com!
Since I am the Mom Most Traveled, after all, I strive to be savvy on travel-friendly toys and games for children (and grown-ups) of all ages.
Somehow, I had never heard of a GREAT company for travel sized items, Minimus.biz!
Minimus.biz has a host of travel games, but they also have travel sized foods, medicine, toiletries, and more mini-sized items! With all of this good stuff from Minimus.biz, you don't have to be plagued by the airline liquid/gel restriction.
Next to the travel games, my favorite find on Minimus.biz is this ultra-handy travel sized, kosher Wild Garden Hummus! A single serving is .98 cents. I'm a vegetarian and I find it challenging to get a balanced vegetarian meal when I'm flying. Airplane food has made great strides in the past decade, but some times, it's still gross! (Lets be honest here). In airports, fast food chains galore leave me wanting for healthy fare. I cannot eat deep-fried deliciousness when I'm traveling. I want to avoid being stranded in an airplane bathroom if at all possible!
My picky eater 4-year-old would be excited to have this tiny peanut butter and jelly, packaged separately in wee squeeze packs! I might even let him put the sandwich together himself. If you are so inclined, they have organic peanut butter, too.
Minimus.biz really does have travel games galore! Here are some Mom Most Traveled family favorites: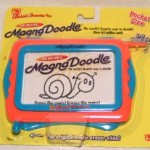 MagnaDoodle tops my list of travel diversion must-haves. Jojo has been scribbling on the MagnaDoodle since he was around 15-months-old, and Deeds used it in the car just this morning!
MagnaDoodle is fun for all ages; even Mama likes playing with it. I love that it can "grow" with your child and stay entertaining, pretty much forever!
If you want to keep your child entertained during travel, or any time you need them to be still (we used one when Jojo was hospitalized with food poisoning and needed to keep an IV in his ankle), I cannot recommend the MagnaDoodle highly enough!
Recommended for ages 8 and older, Fundex makes this neat Checkers Portfolio. I like that the game board is made of wood, the pieces are metal, and it all zips up in a handy carrying case. The checkers portfolio is definitely made to last!
It might sound nerdy but I like to play checkers with my husband when we are on vacation, after the kids are asleep. I have fond memories of playing checkers with my dad when we were on the road as a family. He even won sometimes.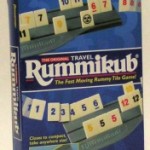 Rummikub is a fun game for 2, 3 or 4 players. This travel sized Rummikub is a convenient way to enjoy this fast moving strategy game that combines elements of mahjong, dominoes and rummy!
Time for another nerdy confession: my husband and I bought electronic battleship before we even had children, to play together!
Travel sized Battleship from Minimus.biz is the same fun Milton Bradley game, now available in itty-bitty! Children ages 7 and older will definitely feel like they are plotting something super-secret when they play with this set!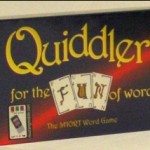 Quiddler is a fun card game that can be played by anyone who can read! It can be enjoyed in "solataire" but is also great fun for up to 8 players! Players score points creating difficult words but also reap reward for simple words. Show your short word building skills!
Tangoes is a wonderful puzzle game for one or two players ages 5 and up that challenges you to creatively mimic tangram images using only 7 basic shapes.
You get 54 puzzles to replicated and two sets of puzzle pieces that store in a handy dandy plastic carrying case. Tangoes is an award-winning educational toy; this set lets you build your child's brain cells while you are on the road.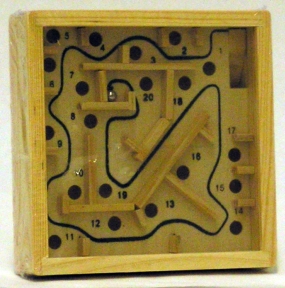 This wood maze is a self-contained labyrinth for ages 3 and up; a fun challenge for anyone with a little coordination.
Blink is a neat, fast-paced matching card game from Mattel for two players. It comes in a darling little tin (everything is cuter when it comes in a tin) that is great for travel.
Hungry Hippos from Milton Bradley also comes in travel size, fun for children ages 4 and up. This is a two player version, scaled down with only two hippos. Jojo loves this game because he can clack, clack, clack away with the hippo mouth gobbling at high speeds. I'm not sure he knows the object of the game is to eat the most marbles, but he sure does have fun!
Minimus.biz is offering an ultimate travel game prize pack for giveaway to one Mom Most Traveled reader!
This prize pack features one of EVERY game mentioned in this post, for a total value of over $60! Woohoo!
For your chance to win, visit Minimus.biz and tell me a product available in there store that you would love to have on your next trip! It must be something NOT mentioned in this post to qualify!
One winner will be chosen at random.
This giveaway is open to US residents.
This contest will close on February 1, 12 midnight CST.
*Congrats to Beth Shepherd!*