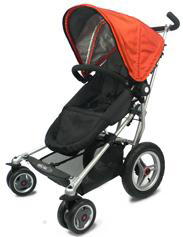 When I decided to delve into review blogging, I thought to myself I would know that I had truly made it if I ever got to review a stroller.
Well my friends, that day has come.
Now I know there is controversy about blog reviews these days and I am totally determined to do a fair and balanced review here.
The Micralite Toro is a luxury model stroller from the Scandinavian Child family of brands; a veritable Cadillac if you will.
The Micralite Toro is not for people who use a stroller once a year. This is for serious stroller needs. Here is my experience.
THE SET UP
When the Micralite Toro arrived I was extremely excited. I had just returned from my Journey of Epic Proportions on which I did not bring a stroller due to my inability to push both a luggage cart and a stroller while walking and not hurting people.
The Micralite Toro is shipped with the 12″ all terrain pneumatic rear wheels removed and deflated. They were easy to put on the stroller, and a small hand pump is included, presumably for filling the tires.
Upon first try, I could not fit the hand pump into the small space of the tire and make it fit flush on the valve. I was worried I would break the hand pump so I had my brother bring over his bicycle pump. I couldn't get that to fit either, so I had my father take the wheels to a gas station to fill with air. HE couldn't get the gas station air hose to fit either.
Finally a couple of days pass and I was desperate to use my Micralite Toro (it was mocking me continually) so I gave it ONE MORE TRY with the hand pump. This time with some wiggling and casting caution to the wind, I got the pump over the valve and inflated the tires with no problems at all.
THE DRIVE
This baby steers like a dream. In my 4 years of stroller driving, I have never had a stroller that I could ACCURATELY push and steer with one hand. It opens up so many possibilities. I can hold Jojo's hand and push Deeds in the stroller at the same time.
I can walk NEXT TO the Micralite Toro while comfortably and rather effortlessly pushing it WITH ONE HAND.
I have done the one-handed push on mulch, grass, inside of a mall, and on the road. The terrain doesn't matter: the Micralite Toro is up to the challenge.
In the past I have used a travel system stroller, a baby jogger, and a mid-range (I think around $80) umbrella stroller. None of these could be managed with one hand, and even with two hands it was difficulty to navigate tight spaces, such as between clothing racks in stores.
I took Deeds in the Micralite Toro into a shopping trip at the mall. I whipped that thing all around the racks in Ann Taylor Loft, and even pulled it into the dressing room with me.
Another advantage of the Micralite Toro is that the large wheels are great for more "naturey" terrains. With my old plastic wheeled strollers, I had the frustration of "plowing" through dirt and sandy surfaces instead of actually rolling.
AESTHETIC
I think the Micralite Toro looks sleek and modern. Ours is the lovely orange color.
It has a basket underneath the seat that can actually hold some cargo.
One concern with the Micralite Toro is that if you try to hang bags or purses over the back of it (as many of us are wont to do), it is prone to tipping backwards.
I was conscious of this risk so I didn't hang anything of weight on the handles.
An all-terrain kit is available for the Micralite Toro, which gives it the pneumatic wheels for the front as well as the back. I don't have any evidence or research to support my theory, but I wondered if the wider wheels would reduce the tipping risk.
The absence of a drink holder might be bothersome. I added one that attaches to the handle bars with velcro. It is not an official Micralite Toro drink holder.
PRACTICAL FUNCTIONALITY
As I mentioned, the Micralite Toro steers with ease. It also has the fabulous ability to remain upright even when folded. I LOVE that.
It can be folded with one hand (which I prove at the end of my YouTube video, as I film with one hand and fold/store with the other), and after you fold it, it remains standing.
That means you don't have to do that awkard thing where the stroller is making it's desent to the ground and you don't want to drop it so you kind of almost lay down with it. Nice!
The sun visor gives fabulous coverage. It is probably one of the best sun visors I have seen on a stroller. Blocking the sun is really important to me when we travel in hot climates.
I feel that the Micralite Toro gives you "big stroller" functionality, yet it is still portable and manageable. It weighs only 19 pounds.
Deeds, who is nearly 2 years old and weighs 25 pounds, fits into the Micralite Toro nicely. In the video, Jojo got in the stroller of his own volition and I decided to film him. He is going on 5 years old and weighs 40 pounds, at the top of the recommended weight range for the Micralite Toro.
I'm seriously considering taking the Micralite Toro on our trip to Laos and Vietnam. I had previously given up on using a stroller in Southeast Asia due to the lack of sidewalks. I was always plowing dirt roads and it gets to be impossible. But with the Micralite Toro, I think I could do it!
I think the Micralite Toro is a great choice for city dwellers, people who walk for transportation, and people who navigate a variety of terrains, ranging from shopping malls to gravel.
Here is a video from a day when I took the stroller and the boys to the park by myself. I was the videographer. This was filmed in HD, which I have had difficulty editing with my current software.
Update! Enter to WIN a Micralite Toro at Bellaziza's Favorite Things!
The skinny:
Recommended Use: From 6 months to 4 years and/or 40 lbs.
Patented, easy-folding design
Lightweight frame
5-point safety harness
Multi-position, fully-reclining seat
Stand upright when folded
Meets ASTM F833 and SOR/85-379 safety standards for strollers and carriages
Includes air pump, all weather hood, foot muff and zip-on rain cover
Under seat shopping basket
Integral bumper bar
Precision engineered aluminum chassis
Robust 12″ all terrain removable pneumatic rear wheels
Lockable 6″ front swivel wheels
Easy-grip adjustable handles
Seat, hood and boot constructed of waterproof woven fabric
Flip out sun visor
Compatible with Maxi-Cosi Mico Infant Car Seat and Graco SnugRide and Graco SafeSeat Infant Car Seats (adaptor sold separately)