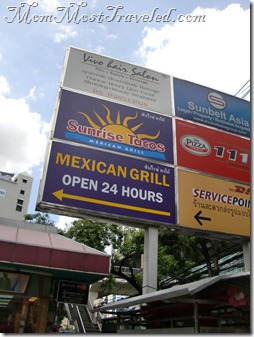 Mexican food is rather rare to come by in Southeast Asia.
Rightfully so, most tourists would probably want to eat Thai food in Thailand or Lao food in Laos.
But once you have been here a while, say, nine years or so, you might seek a Mexican food fix even in Asia.
In Bangkok I recently dined at Sunrise Tacos, a moderately priced source for Mexican cuisine, open 24-hours.
Sunrise Tacos has several locations in Bangkok. I went with my travel artist friend to the location on Sukhumvit, near Soi 12 and the Nana BTS station.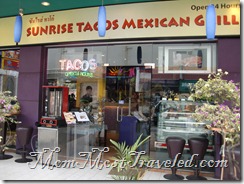 Tip to help you find it: the sign on the side walk is purple (above).
But the sign on the storefront is yellow.
There isn't a lot of seating inside but you can always get your food take-away, or even order delivery.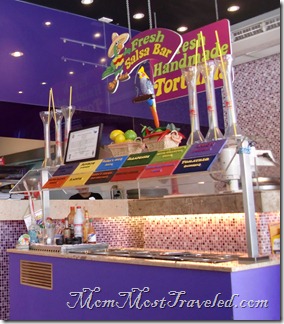 When we walked inside we saw a lovely dessert case and a salsa bar with TWELVE different salsa options.
I ordered vegetable fajitas, the most expensive item on the menu at 249 baht.
It was a lot of food, replete with 3 or 4 flour tortillas, sour cream, black beans, and rice.
I probably could have split it with another person and ordered some chips and guacamole (119 baht) to round out the meal.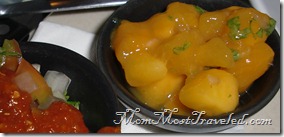 My companion got the grilled chicken burrito (213 baht…pictured above wrapped in foil) and it was more than she could finish.
I visited the salsa bar several times and decided that the Mango Salsa was my favorite.
Sunrise Tacos definitely hit the spot for my Mexican food craving!
I hope to try their tempting breakfast menu on my next visit to Bangkok.
You can view the menu and prices here: http://www.sunrisetacos.com/menu.html