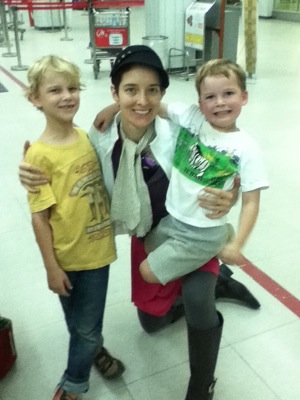 It is so important to me that my children be generous and caring.
Growing up in a third world country where we encountered beggars and people living on the streets, I try to imagine how such sights strike them.
Without getting into the debate of whether it is appropriate to give money directly to beggars or not, I think it is important for children to see giving in action.
Through the Clever Girls Collective, I was introduced to Members Unite.
Members Unite is a simple, interactive, fun way to fund amazing projects. We find the most interesting, impactful, meaningful projects and then let our members figure out which ones get funded. This is possible because the projects are funded through member contributions. And the members ultimately control the outcome each month. We're all in this together. There's a saying we love… One person giving $20 is a drop in the ocean. One thousand people giving $20 brings clean water to a village for a lifetime. Members Unite helps us all do more than we could do on our own.
Looking at the projects through a child's eyes made me think about them differently than I would through my Cynical Adult eyes.

For example, some of the projects involve grand but impractical gestures, such as giving balloons or smiley face cards to lots of people to brighten their day.
To a kid that sounds pretty awesome, but when I read it as a grumpy adult, I am more wont to vote for projects such as the DonorsChoose.org effort that helps get supplies for teachers in US public schools.
I was a teacher for more than 10 years. Sometimes, I had to use my own money to buy whiteboard markers and even to make photocopies for exams and other handouts.
I would often plan lessons using my own personal resources or things I found free online.
We ranked all of the projects on Members Unite, but I gave the most stars to the DonorsChoose.org project.
The project with the most votes will get $5,000 to their cause!
It is a meaningful exercise to sit down with your children and read about each of the projects, and allow them to vote for what stirs their little hearts.
I think it would be fun to have a  Members Unite account for each child, to let them really put thought into making their choice. Definitely an educational and philanthropic experience for only $5 each month.
If you sign up for a paid membership with Members Unite by March 31, leave me a comment letting me know what projects you voted for.