I was intrigued and excited to learn that adoptive moms can breastfeed their babies. I enjoyed breastfeeding my children, and I used Medela products every step of the way.
So when a friend began pursuing the adoption of a newborn baby with plans to nurse him, I introduced her to the magic of Medela!
Medela generously donated a breastpump and supplemental nursing system to an adoptive nursing mom as part of our adoption celebration.
The supplemental nursing system was "first developed to help adoptive mothers induce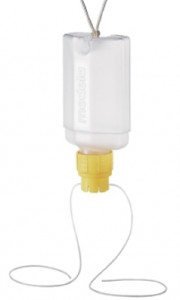 lactation by feeding their babies at the breast to trigger hormonal changes that enhance milk production," and is also useful for any mom with a low milk supply.
The "SNS" allows moms to supplement feedings with formula while baby is on the breast!
The supplemental nursing system is BPA and DEHP free, so moms can rest easy!
Using an electric breast pump also helps adoptive moms to stimulate milk production.
Medela breast pumps are the gold standard in my experience!
I used the Pump In Style Advanced when Jojo was a baby and I was still teaching part time.
Pumping isn't on my list of fun things to do, but the Pump In Style Advanced is a double pump and well designed, so my pumping sessions were quick and painless.
The Medela Pump In Style Advanced employs 2-Phase Expression, which is a high-tech way for the breast pump to mimic a baby's natural nursing pattern, so the process is gentle and as efficient as possible.
Medela's Pump In Style Advanced is an excellent choice for daily use.
Nursing can be a great experience, but many moms have a rough start. I experienced difficulties and pain while nursing Jojo as a newborn, and I absolutely couldn't not have survived without Tender Care Lanolin.
During those times when you are tender, red, raw, or experiencing dry, cracked nipples, reach for the soothing magic of Tender Care Lanolin!
My tube has lasted for years and years; a little goes a long way. It has been called "liquid gold" because of it's soothing properties to moms in need.
I was maybe a bit traumatised by the pain I experienced as a new nursing mom; I carried the Tender Care Lanolin in my toiletry bag everywhere I went for at least two years straight, in the fear that I would be away from home and suddenly have a desperate need for it!
I definitely feel duty-bound to tell moms-to-be that they should have a tube of Tender Care Lanolin at the ready when they begin their nursing journey!
The lanolin is natural and 100% safe for mom and baby. You do not need to wash it away before nursing.
Medela has so many great products for feeding. I was happy and relieved to learn that Medela's bottles are BPA-free, and have been long before the BPA scare last spring! Baby Deeds was only 5-months-old at the time, so this Mama was obsessive with the BPA research!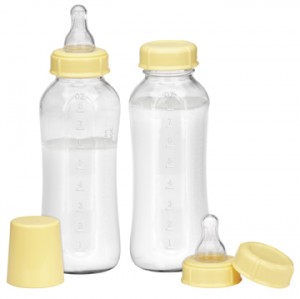 Besides generously donating their high-quality products to an adoptive family, Medela is also giving away a Glass Breastmilk Bottle Set to one Mom Most Traveled reader!
Medela's Glass Breastmilk Bottles are Bisphenol A-free, and designed to retain breastmilk's beneficial properties.
Medela's 8-ounce glass bottle set includes two 8-ounce glass bottles, two medium-flow silicone nipples, two two-piece lids, two nipple caps and one Micro-Steam Bag.
The glass 4-ounce set includes two 4-ounce glass bottles, two slow-flow silicone nipples, two two-piece lids, two nipple caps and one Micro-Steam Bag. Together, these items give moms everything they need to easily collect, store and feed breastmilk to their babies. Medela glass bottles are dishwasher-safe, microwave safe and recyclable.
To enter for your chance to win a Glass Breastmilk Bottle Set from Medela, visit the Medela website and comment here telling me a Medela product you would love to have OR one that you already have and love!
One winner will be selected at random.
This giveaway is open to US residents.
This contest will close on January 30, 12 midnight CST.
*Congrats to Kathy Pease!*
Thank you to Sweeties Sweeps for listing my blog giveaway!