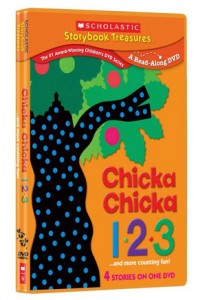 I love reading and am a Scholastic Storybook Treasures SUPERFAN!
In late July, Weston Woods Studios released Chicka Chicka 123… and More Counting Fun (Scholastic Storybook Treasures), an engaging DVD for ages 2 to 6 ingeniously designed to sharpen reading skills and math concepts.
Over an hour of colorful animated stories teach number concepts (through the subject matter) and reading skills, thanks to the Read-Along captioning that highlights each word on the screen as it is spoken.
The title feature in Chicka Chicka 123… and More Counting Fun is of course "Chicka Chicka 123," a musical number romp sung by Crystal Taliefero. 101 numbers run into trouble as they vy for the top spot in an apple tree!
Emily's First 100 Days of School by Rosemary Wells is the second story on Chicka Chicka 123… and More Counting Fun.
Each day at school, Emily and her classmates are introduced to a new number "friend". On the second day of school, for example, they learn the song "Tea for Two." Will they learn a new number each day for 100 days and earn the party that Miss Cribbage has promised?
How Much is A Million? is a beautifully illustrated work that endeavors to visually conceptualize the mind-blowing concepts of "million", "billion", and even "trillion".
The illustrations are so detailed and fun that you will want to watch How Much is A Million? to let it all sink in.
Did you realize that a goldfish bowl large enough to hold a million goldfish could hold a whale?
Or that one trillion children standing on each other's shoulders would almost reach to the rings of Saturn?
Mathematical calculations ARE provided, with amusing explanations from Marvelosissimo the Mathmatical Magician!
Marvelosissimo the Mathmatical Magician returns in the last story on Chicka Chicka 123… and More Counting Fun in If You Made A Million.
This explains concepts of money that my 4-year-old has misunderstood. You know the age old confusion about how a nickle is larger than a dime so it seems like it would be worth more?
"One dollar is worth as much as FOUR QUARTERS or TEN DIMES or TWENTY NICKELS or ONE HUNDRED PENNIES," Marvelosissimo explains, and the illustrations by Steven Kellogg show us exactly what that means.
We even visit a bank with Marvelosissimo and learn about interest and bank loans. I have a couple of friends who could use a refresher course on these concepts!
I feel like Chicka Chicka 123… and More Counting Fun can teach my children mathematical concepts that I personally have difficulty explaining.
And, while Chicka Chicka 123… and More Counting Fun does cause us to LEARN something, watching it is good fun!
1.) To enter to win leave a comment here letting me know a fun way to teach a difficult concept to a child. It can be something that you have used or that someone else used to teach YOU!
Try to show that you actually did visit the site. Don't make me doubt you!
Please don't just comment with "Enter me" or "Sounds great". That totally annoys me. Those entries are not eligible to win.
One winner will be chosen by random number generator.
This giveaway is open to those with a US mailing address.
2) Daily entry available! Simply Vote for my mom, Cathy, in the Single Sensational Act contest. Comment here the message you got after voting. You can do this once per day!
3.) Email subscribers get an extra entry for as long as their subscription is active.
Already a subscriber? Leave me a separate comment on this post to let me know you're interested in this giveaway.
Want to subscribe? Just click here:  Subscribe to Mom Most Traveled by Email (Only verified subscriptions are entered for all the giveaways.)
4.) One extra entry for every social bookmarking site you submit this post to (examples: Digg, StumbleUpon, posting on Facebook). Leave a comment for each with your user name.
4.) Twitter about this giveaway (include a link to this page and @MomMostTraveled ) and comment here with your Twitter name.
5.) Blog about this giveaway, including a link to this post.
You have lots of chances for extra entries!
This contest will close on August 28, 12 midnight CST