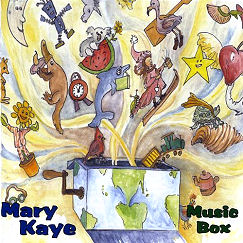 I realize how lucky I am to have the chance to review some incredible children's products.
Music Box, a newly released CD from song writer Mary Kaye, is one of those wonderful discoveries that took me by surprise.
The first song on Music Box, Under the Moon, made me think, "This is what Sarah Mclachlan might sound like if she employed the use of onomatopoeiac animal sounds."
Which she totally should.
Then I was again surprised by the 80's-esque vibe in the song about Robbie Robot. If anything lends itself to 80's digi beats, it would be a song about robots for sure! I'm a big 80's music fan. I have the urge to do The Belinda to tunes like this.
The songs on Music Box are fun to listen to without being wild and crazy. I for one really appreciate this because my sons need no reason or excuse to whip themselves into a frenzy.
I also find Music Box to be more on the side of "whimsical" instead of my stereotype of many songs written with children in mind. Music Box doesn't make me feel like I'm losing brain cells, even when I listen to it repeatedly.
Mary Kaye is an award winning singer/songwriter and mom of two based in southern Maine
She has a wealth of professional experience that seems to have taught her how to speak the language of children. She has found work as an actress, an elementary classroom teacher, and as a director of several drama camps for children.
I have a copy of Music Box to give away to one Mom Most Traveled reader! This is great for kids ages 2 to 8 and fun for moms of all ages!
1.) To enter to win, look at this list of songs on Music Box (have a free listen if you like!) and leave a comment here telling me which title intrigues you the most! Try to show that you actually did visit the site.
Please don't just comment with "Enter me" or "Sounds great". That totally annoys me. Those entries are not eligible to win.
One winner will be chosen at random.
This giveaway is open to those with a US mailing address.
2.) Email subscribers get an extra entry for as long as their subscription is active.
Already a subscriber? Leave me a separate comment on this post to let me know you're interested in this giveaway.
Want to subscribe? Just click here: Subscribe to Mom Most Traveled by Email (Only verified subscriptions are entered for all the giveaways.)
3.) One extra entry for every social bookmarking site you submit this post to (examples: Digg, StumbleUpon, posting on Facebook). Leave a comment for each with your user name.
4.) Twitter about this giveaway (include a link to this page and @MomMostTraveled ) and comment here with your Twitter name.
5.) Blog about this giveaway, including a link to this post and http://www.marykayemusic.com/ !
You have lots of chances for extra entries!
This giveaway will close on July 15, 2009, 11:59 pm CST!