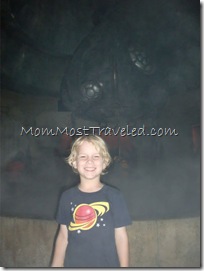 Can you Dig it? The Dig is a fabulous 2.3 million-gallon salt water aquarium exhibit located "underground", accessed through the main lobby of the Royal Towers at Atlantis Resort on Paradise Island, Bahamas.
Besides the 20,000 marine animals on display, The Dig is exciting because of its lost world qualities, modeled after the ancient city of Atlantis.
As an aspiring young Indiana Jones, Jojo was captivated by the artifacts and hidden surprises throughout The Dig.
His favorite room featured an ethereal pit of harmless theatrical fog underneath a dangling ancient submarine pod.
Each time we rounded a corner, Jojo would say something like, "This is like what Dr. Jones has in the Temple of Dooms!"
Another cause for excitement was a room featuring a touch tank and several large crystals. Jojo just had to reach out an touch this huge amethyst.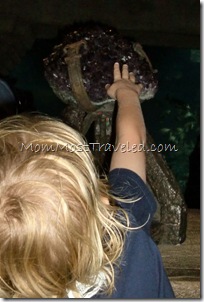 He learned about "Power Crystals" from a book he has about Lego Rock Raiders.
The Dig is a place of wonder, and it just got a little cooler last week. Atlantis Resort is partnering with LEGO, and the results are a dream come true for kids like Jojo!
LEGO has a new series of Atlantis building sets, featuring underwater adventures and cool new minifigures like this guy with a shark's head. Obviously the one in this picture is NOT a minifigure, but you get the idea.
We were lucky enough to be at Atlantis Resort on the day that LEGO made their mark on The Dig.
After a healthy breakfast buffet where Jojo selected a balanced meal of a cookie, whipped cream, 1/4 of a waffle, and some coffee cake, we went to the big reveal!
Frankie "The Bonus" Jonas said the word, and the curtain lifted to reveal…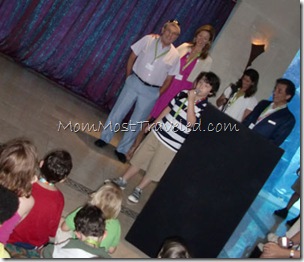 Lanse! The big Lego Diver that shared our plane ride from NYC to Bahamas! He now permanently resides at the bottom of The Dig!
And he is so happy to be there!
To celebrate the occasion, Lego concocted a kids' fantasy brunch featuring adorable desserts of all kinds!
Only one detail was overlooked: kids don't care about food when there are things waiting to be explored like The Dig. Jojo busied himself with Lego building while I chowed down!
I wasn't asked to post about THIS, but I think you need to know:
LEGO is having a LEGO Atlantis Fantasy Camp Sweepstakes, giving away a trip to Atlantis Resort in the Bahamas for LEGO Atlantis Camp!

For complete rules and information on how to enter, check out www.LEGOAtlantisKidsAdventure.com, starting January 23, 2010!
I paid my own airfare from Asia to LA, but JetBlue, Atlantis, and Lego invited me on this experience as their guest and covered my other expenses. It was amazing and I am very grateful!
Our other Bahamian adventures:
JetBlue Flight from NYC JFK airport to the Bahamas!
Making and Doing at Atlantis Resort
….
Other Atlantis Adventurers:
Bump Alison (TheBump.com)
Mara Gorman (The Mother of All Trips)
MomCentral, The DeBroff Brief
Mommy Niri
MomTrends
Mom Most Traveled
NYCity Mama
Boston Mamas
Cool Mom Picks
The Daily Grind of a Work At Home Mom
Lil Sugar
CC Chapman
Mocha Manual
Parents Magazine Goody Blog
Yummy Mummy