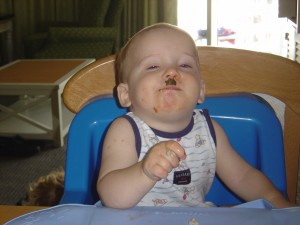 As a mom, I can call it a "GOOD DAY" when my family sits around the dinner table pleasantly, enjoying healthy food together.
This is a picture of Deeds from last summer with his spinach leaf mustache, a remnant from my crock pot lasagna on our beach vacation.
Through Mom Central, I found out about a great meal-planning resource.
Unilever and cookbook author Jennifer Bushman have created the ultimate Family Fun Book.
This contains filled with delicious recipes and affordable meal ideas!
I love these easy recipe ideas that even the kids can help to make!
Have an at-home dinner picnic. Spread a blanket out in the living room and prepare simple sandwiches or wraps, like a delicious Chicken & Basil Sandwich. Opt for Hellmann's Light Mayonnaise, which has the great taste but half the calories and fat of Hellmann's. Get the kids involved by letting them pick the sandwich fixins and spread the mayo!
Use versatile ingredients from your well-stocked pantry. Wish-Bone Dressings can do double-duty as delicious salad dressings and simple, great tasting marinades for chicken, pork, beef and fish. Pair with soy sauce for a delicious Asian Grilled Steak. You may want to keep your children away from the grill, but they can help by preparing the steak ahead of time.
Summer and iced tea go hand-in-hand to stay hydrated. Did you know those tea bags can also spice up your cooking?  Use Lipton Teabags to create Tasty Tea Baked Apples – a delicious desert with an extra helping of antioxidants for just $1 per serving.
I'm especially inspired by the Tasty Tea Baked Apples. Yum!
I wrote this review while participating in a blog campaign by Mom Central on behalf of Unilever/Making Life Better. Mom Central sent me a gift card and a copy of the Family Fun Book to thank me for taking the time to participate.