Before I moved to a land with no Hobby Lobby, and before I had two offspring and  a full time job, I used to enjoy making stuff.
I minored in art while studying at university, where I got to process my own film and print photos in a real darkroom. I learned how to make leaded stained glass windows and the finer points of drawing topless mannequins.
So when Jojo and I went to Atlantis Resort last week, I was happy to revive my inner crafter with several activities.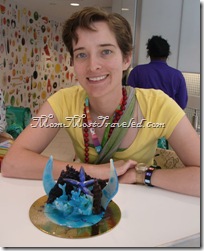 This blue thing in front of me is my chocolate sculpture, enhanced with some airbrushed color and edible glitter. We made them with help from the AKA cooking adventure staff in the kids club.
The cooking adventures (Cooks@Play) are designed for ages 6-12. Jojo, age 5, lost interested and wandered back to the kid-sized grocery store, but I stayed to create my fabulous chocolate coral.
A highlight for Jojo was making and dressing his own plush toy at Atlantis Pals.
We have never done anything like that before and he got really into it!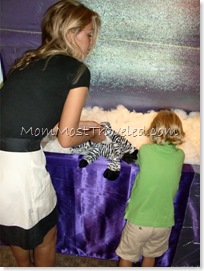 He chose a zebra and stuffed the body with help from Miss Universe, Canada.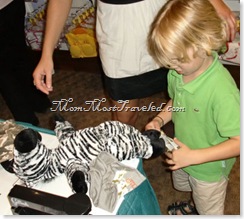 Then he selected some army-themed clothes and accessories, including a parachute, and dressed his zebra.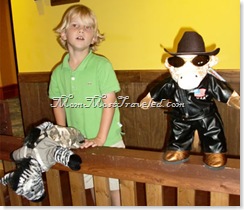 I made a leather-clad cowboy biker giraffe for Deeds, which Mommy Niri seemed to think indicates that I have hidden inner deviance.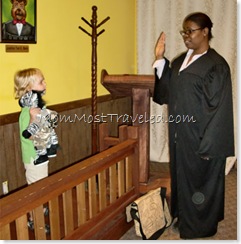 When the animals were complete, Jojo took the stand and promised to the Atlantis Pals Judge that he would take care of "Frankie".
Next stop was Earth & Fire Pottery Studio. Jojo selected a ceramic gift box which he painted several different shades of green. When he was finished, he decided that it would be a gift for Nana.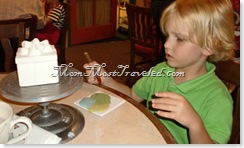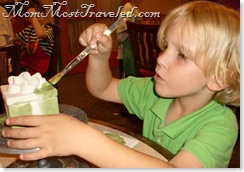 I painted a teapot, then we went next door to Seagrapes restaurant.
Seagrapes is buffet style, and everything looked delicious, except…
Jojo totally konked out! The Seagrapes restaurant was about a 20 minute walk from our hotel room, and I had lots of bags to carry.
I didn't know how I was going to carry my 41-pound child and all of my stuff back to the room, so I asked the resort staff for help, thinking that they would offer a wheelchair or a luggage cart.
Instead…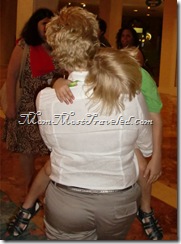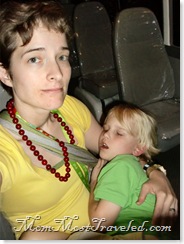 This sweet lady carried him for me, put us on the shuttle, then called to our hotel front desk to have someone meet me at the front door.
I was amazed at her kindness and extremely grateful!
I paid my own airfare from Asia to LA, but JetBlue, Atlantis, and Lego invited me on this experience as their guest and covered my other expenses.
Our other Bahamian adventures:
JetBlue Flight from NYC JFK airport to the Bahamas!
Marine Life Exhibits at The Dig
….
Other Atlantis Adventurers:
Bump Alison (TheBump.com)
Mara Gorman (The Mother of All Trips)
MomCentral, The DeBroff Brief
Mommy Niri
MomTrends
Mom Most Traveled
NYCity Mama
Boston Mamas
Cool Mom Picks
The Daily Grind of a Work At Home Mom
Lil Sugar
CC Chapman
Mocha Manual
Parents Magazine Goody Blog
Yummy Mummy