I just booked my plane tickets to get to BlogHer '09.
Check out my itinerary:
Vientiane, Laos to Bangkok, Thailand (one hour flight followed by 6 hour layover, to be spent in a dayroom)
Bangkok to Tokyo, Japan ( 8 hour flight, 2 hour layover, curious to check out the "free public showers" here. Hrm.)
Tokyo to Atlanta (12 hour flight, followed by 3 hour layover do not mess with me at this point, Srsly. Not so much as an eye roll! Oh I get so stressed out on that MARTA mass transit system, too. What concourse am I? The doors open and close so fast!)
Atlanta to final destination (one hour flight)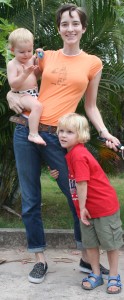 I am so committed to this BlogHer thing. I am so committed, I should be committed (ba-dum bum!)
I can't believe I couldn't get an airline to give me the media rate for these flights; this is going to be some priceless vlog footage.
Me vs. my two young children, cooped up in various airplanes for like three days.
Yep, you read that correctly; I will be the Solo Parentis on this jaunt.
Maybe even the Loco Parentis (I already don't know what I'm talking about).
Hopefully I can capture my own descent into insanity, for your viewing pleasure.
I'm really excited about the prospect of some D-LUX hotel accommodations at BlogHer. I think I will need some pampering upon arrival.
My blogging heroes at ZRecommends have orchestrated a most amazing giveaway.
We've just confirmed arrangements with the Sheraton Chicago Hotel & Towers, host of the 2009 BlogHer conference, to give away a three-night, executive-perk stay at the Chicago Sheraton for the nights of July 23-25. Those nights include the night before the BlogHer conference begins, plus the two nights of the conference, and the room they've reserved for our winner is on the hotel's Executive Club Level, with no strings attached – no rack rate, no taxes, no access fees, just a free three-night stay at one of Chicago's top hotels.
It's amazing! But it's not too good to be true, because it is true! Go see for yourself! Enter if you want (please don't please don't)!
To enter, you just need to post about the contest on your blog and link back toZRecommend's post! Be sure to send them an email to let them know about your entry!