I definitely have a healthy side, but I have NEVER liked the taste of artificial sweeteners. I can't stand diet soda, and I'm wary of sweet stuff produced in a laboratory. However, in recent years I became privy to stevia, a tropical plant discovered in South America that can be used as a natural sweetener. I have used it in liquid form to sweeten drinks and smoothies, but never used stevia in baking.
New Domino Light is a natural sugar and stevia blend. The result is HALF the calories of regular sugar in a form that is completely usable for baking!
Besides baking, I feel that Domino Light blends really well with hot coffees or even cold smoothies. It seems to become homogenous with no problem, unlike regular sugar, which is prone to clump in the bottom of the glass.
Domino Light comes in 2 pounds, resealable bags as well as a 40 count packet box. I tucked a couple of packets in my purse and have found lots of uses and needs for Domino Light!
Besides smoothies, coffee, and tea, my kids and I enjoy sprinkling Domino Light on our cereal or oatmeal.
Each packet of Domino Light contains only 5 calories, which is pretty awesome. That is about how many calories my sugar free gum has in each stick!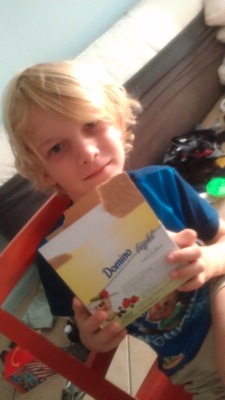 I feel that Domino Light can help me stay on the right track for eating healthy food. I like to make green smoothies and usually use a banana for sweetness. However, there have been several occasions when I just put in too much spinach and I have to punish myself by eating the whole bitter smoothie concoction. 
The last time that happened, I had my secret weapon of Domino Light. One five calorie packet made the whole Green Smoothie Experience much easier to swallow.
Oh man, that was an awesome pun. 
Learn more about Domino Light at http://www.dominosugar.com/products/domino-light-sugar-and-stevia-blend.
Intrigued? visit the Domino Sugar Facebook page to download a coupon to try the new Domino Light.
In August you can have a chance to win some SWEET (bwhaha! more pun points!) prizes from Domino sugar at this cool twitter party! Click here for the August 8th Twitter Party Deets!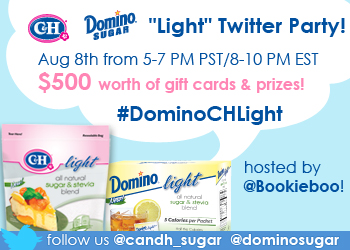 I was sent samples of new Domino Light and was compensated for this post by Domino. All opinions are my own, and I am a big fan of Stevia! Try it, really!